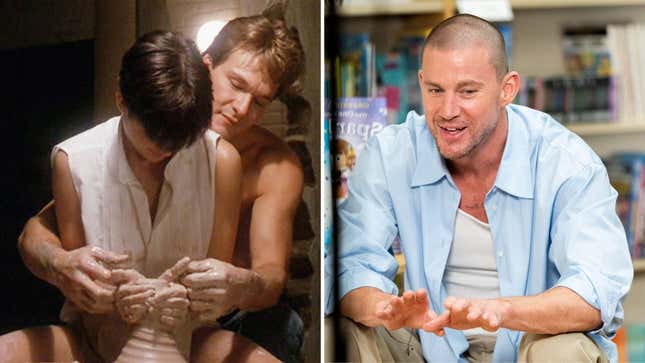 Channing Tatum has portrayed a stripper from Tampa, a dog dad, and a cop undercover as the least believable high school student in cinema save from Ben Platt in Dear Evan Hansen. Now, per a new Vanity Fair profile, it appears Zoe Kravitz' boyfriend could soon play (cue "Unchained Melody") Sam Wheat, made famous by Patrick Swayze in the 1990 hit, Ghost.

Is Emmy Rossum Old Enough To Play Tom Holland's Mom?
Tatum shares very little in the cover story except that his face "gets really fat really fast" (relatable!) and that "relationships are hard" for him (also relatable!). However, he did casually confess that his production company, Free Association, owns the rights to Ghost and is currently trying to "pull together" a remake of the movie.
Ironically, Tatum—wearing a "The Power to Satisfy" t-shirt—delivered this tidbit to journalist Jessica Pressler at an actual pottery studio, where the two attempted to create their own vessels. The former notes how "very sexual" the process is, before he really bakes the clay:
"Now I know why they put this in Ghost," he says, then smooths out the lip of a piece he notes looks rather like a vagina. "This whole process is very, very sexual."

Meanwhile, my clay is flapping around all over the place. "Ghost was great," I mutter as I struggle to get ahold of it.

"We actually have the rights," Tatum says.

"Wait, what?"

"Yeah, we have the rights to Ghost."
Pressler doesn't appear to pry, nor does she suggest that Tatum recreate the iconic pottery scene with her for the piece (missed opportunity)—but he offers that he might take on Swayze's character and that any potential adaptation will be a new take on its predecessor. "We're going to do something different," Tatum tells Pressler, noting that the original contains "problematic stereotypes."
"I think it needs to change a little bit and have our…" he unfortunately trails off, as Pressler's potting wheel malfunctions. The topic is then, unfortunately, dropped, but he's not wrong—Whoopi Goldberg, who won an Oscar for Best Supporting Actor (the second Black woman ever to receive an Academy Award) for her role as psychic Oda Mae Brown in the 1990 original, has also previously suggested that the movie could've earned further acclaim if not for racism.
"We were a very mixed cast, and it makes you wonder 30 years later, was it because we were a mixed cast that nobody wanted to celebrate it?" Goldberg asked in 2020. "Had it been any other cast that happened to be maybe all white, people might've celebrated it?"
There's no telling how Tatum's adaptation will deviate from the original just yet (come on, Pressler!), but I have a few queries following the news: How the hell did this man get the rights to Ghost? Does he really have the charisma to fill Swayze's size 9 and a 1/2 shoes? Will "Unchained Melody" (perhaps a modern cover of it?) remain the theme song in the update? Who will fill Demi Moore's (size unknown) shoes? Why are so many celebrity interviews (i.e. Olivia Wilde, Sydney Sweeney, etc.) taking place in pottery studios these day?
Here's hoping we won't be haunted by such questions for much longer.