It seems that outsiders love to fantasize Cuba as a romantic place that time forgot, a time capsule to the early '60s, and/or a snapshot from a scene from Dirty Dancing: Havana Nights, as opposed to the realities of it: a place where 11 million people live off $20 a month and where food is historically scarce; a place where a Fast & the Furious 8 shoot paid extras more than most people earn in a month. Of course, Cuba already has its own, very 2016 culture and its citizens have reported they're excited for its renewal (and the internet).

On Tuesday night, Chanel added to this distorted romanticization with the presentation of its Resort 2017 collection, a concentration of global wealth taking in the scene along Havana's Paseo del Prado. Attendees included Carine Roitfeld, Anna Wintour, Tilda Swinton, Tony Castro (Fidel's grandson), Charlotte Dellal, Vin Diesel, and Gisele, fanning herself and wearing a beret.
"For us, it is almost dreamlike to think about Chanel in Havana," Leire Fernández, co-proprietor of the Havana boutique Clandestina, told WWD, but "there isn't really a fashion industry. The Cuban system is based on social needs and values and does not put emphasis on fashion, trends or anything of its kind."

Karl's version of Cuban Chanel fashion is both rooted in the brand's history—his interpretation of the iconic and ever-present influence of Coco's designs—and also not imaginative enough to imagine a Cuba without stereotypes, despite that millennial modern-day Cubans look cool as hell and contemporary as anyone in the States. (Although the proliferation of ringer tees seem directly inspired by this photoshoot.)
G/O Media may get a commission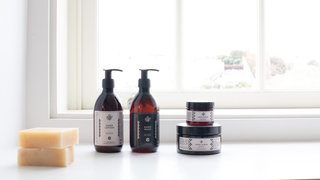 Exfoliate and Hydrate
The Handmade Soap Company
While fashion at its best explores fantasy in the everyday, within that artistic freedom can also make it a vehicle for quick, racialized distillations of popular consciousness. In Chanel, this was interpreted through berets and fedoras and bright colors and fringe and 1950s-style suits and wide ties, and also an actual model smoking a cigar down the runway. (I hate this.) Attendees were ferried in on candy-paint convertibles from the 1940s and '50s—Victor, one of the drivers, told CNN, "There are not many cars like this left in the city right now"—which inspired a car-print Lagerfeld used on dresses and suits and on a fucking robe that presumably men are supposed to wear while smoking their cigars.
This "Viva Coco Libre" t-shirt contains multitudes...:
As Carmen Pelaez wrote last year in Remezcla when Conan O'Brien filmed an episode of his show there:

You can't go to Cuba and be apolitical. Traveling there is a political act alone. The brands he joked about at the grocery store were all companies that were appropriated by the Cuban government. That cigar factory he visited was taken from a Cuban family of cigar makers. Cubans cannot afford to eat at paladares because the average Cuban only makes $20 a month, creating an unofficial tourist apartheid where foreigners enjoy Cuba while Cubans endure the regime. The "ruins" that took Conan's breath away are dilapidated buildings that thousands of people have to live in because they are not free to move out of them without government permission.
And she also elaborated on that notion that many people have about Cuba being a romanticized "untouched" center of the world when O'Brien lamented that in a few years, Havana could be peppered by Foot Lockers. "The idea that commerce would ruin the 'ruins,'" Pelaez wrote, "disregards the desperate need for things to change in Cuba."
Of course, Chanel staging Resort 2017 there might have been some part of that change—surely someone will eventually report how much the label paid Cubans who worked on the show. And politics in the country are complex and come with many heated viewpoints from all sides, whether it's current residents living in a communist experiment or immigrants and refugees living in the States, some of whom have become vehemently pro-capitalism as a result. (While some, like Conan, will decry the surely encroaching corporate interests in Cuba, I'm not interested in what some white boy college student with a Che poster in his dorm thinks.)
Additionally, I am most certainly not an expert in these political nuances, which are many and varied. But I what I can deftly sniff out are Latina stereotypes, which came in the Chanel reviews by the carload!
WWD (in which we learn that Karl had never been to Cuba before designing this collection):
The audience took in the open-air show seated on park benches as the Latin beats ricocheted off the handsome buildings, capturing the essence of lively, steamy Havana, where music leaks from open windows at night and dancing can spontaneously erupt on sidewalks.

[...]

"I'm in awe, of the colors, the buildings, the music, the smiles – people are so nice. It's just magnificent," said Vanessa Paradis, who is gearing up for her stint as a juror at the Cannes Film Festival later this month.
InStyle, in what was overall a thoughtful review by Eric Wilson:
"Che!" said Gisele Bundchen, "Che!" she screamed to the photographers who had trailed her to a corner of Havana's central boulevard, El Paseo del Prado. She wore a red dress and a black beret, a supermodel adopting the style of the guerrilla leader, in the 80 degree heat that felt more like 100 with the humidity. With her Brazilian accent, it sounded more like "Jay! Jay!"

[...]

So, let us accept that our brave explorers from planet fashion have landed in Cuba to discover a warm welcome. Take us to your leader, Mr. Lagerfeld.
Tim Blanks, as usual, was one of the only people so far not feeding us bull:
The fundamental incongruity of the moment was lost on no one. Cuba is very poor, Chanel is not. Cuba is only now relaxing from the rigours of Fidel Castro's communist dream, Chanel has long benefited from different dreams, the ones Karl Lagerfeld realises with the bottomless capitalist resources of a huge French fashion house. But you could also say that something the two men have in common — aside from the fact they're both in their 80s — is the ability to imagine a world and bring it into being. The force of will that has taken is acknowledged in their sobriquets: Castro the Comandante, Karl the Kaiser.

[...]

But even modern Havana has been an art director's out-of-time dream for so long now that its visual signatures border on cliche. The decrepit beauty of the architecture, the faded hothouse colour schemes of the old colonial buildings, the fleets of big American cars from the 50s all found a niche in the Chanel collection, as a print in the case of the cars, as an over-print on lace that looked like paint flaking off walls, in the palette that included hot pink and turquoise, sequinned and ruffled for a hoochie-koochie finale that had a Club Tropicana vibe.
At least Ibeyi, the sisters whose father was Cuban percussionist Anga Díaz and who have spent much of their lives in Havana, performed.
---
Images via AP
Correction: this article initially stated that most Cubans live off $20 a day, instead of $20 per month. Jezebel regrets the error.