On Tuesday night's episode of the adult version of Wild & Crazy Kids—MTV's The Challenge—a notoriously hotheaded competitor made racist remarks during a drunken tirade and the Earth continues to spin on its axis.

The offender in question, Camila, has since issued an apology on Twitter but was not kicked off the show while filming. The incident instead turned into a classic MTV teachable moment about racial insensitivity. Since many of you mistakenly choose not to partake in America's greatest televised sport and to spend your time doing smart things and then wondering, "This show is still on?" in the comments, allow me to set this up. Camila is a Challenge veteran who's competed on about 10 of these (it's the 30th season). In the process, she's bragged a lot about being Brazilian and having a short fuse. She's known to blow up on random people while drunk. Her target this time, Leroy, is consistently considered the most beloved person in the house every season and, off the show, he works as a bartender in Las Vegas.
After winning the most recent competition (in last week's episode), the cast went out drinking and Camila spent part of the bus ride home enticing another cast mate, Tony, who at the time of filming had a girlfriend and two kids and is a cheater. Both great people. By the time, they got back to the house, Camila was highly intoxicated and nonsensical, in part because the producers encourage such behavior and don't intervene until it's too late. Above is a clip of Camila overhearing and then over-reacting to a conversation between Leroy and his alliance.
"You are fucking an idiot," she tells Leroy. "Guess how many wins you've had? Zero. You're a fucking black motherfucking pussy!" In a subsequent confessional, CT wonders plainly: "What does Leroy's color have to do with anything?" Instead of immediately recognizing her offense and dialing back, Camila dug deeper, mocked Leroy in front of his face and hit him with a pillow.
Below is a clip of the follow-up scene where Camila yells to no one in particular: "It's all about black motherfuckers like that piece of shit!" Again, Leroy is the furthest from a piece of shit compared to these other losers, and Camila makes no sense. It's when she picks up a pair of dumbbells in threatening fashion that a producer intervenes to tell her she has to spend the night in a hotel, lest she get more physically violent.
Kicking her off the show at that point would've sufficed since she was both belligerent and threatening, but there are no rules, so Camila was allowed to return the next day as other cast mates sat around acknowledging her unacceptable behavior. They also commended Leroy for maintaining his composure in the moment, a frustrating reality that the simple act of staying calm in the face of racism is laudable and that to get angrier only paves way for another stereotype. Leroy's compelled to explain that by now he's used to being black and has built up a certain tolerance that he shouldn't have to, for white girls who scream in his face about his being "a big black dude."
G/O Media may get a commission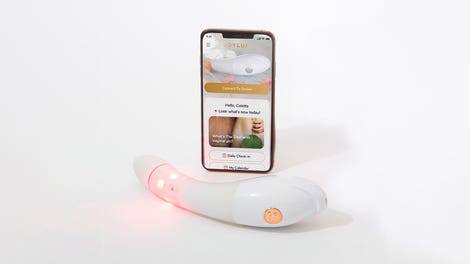 $50 Off
Joylux vFit Gold Device
Though Leroy could have been tougher on this topic and made Camila look like a huger fool, he instead lets her do it on her own, and all he says is that he's embarrassed for her and doesn't think she's racist, just inflammatory. It's a tough situation to navigate, especially when televised. Leroy's reaction was largely the opposite of what happened with a black female cast member (Ceejai) on last year's season of The Real World, who was pushed all season long by a racist homophobe cast mate (Jenna) and then fought with her after a particularly incendiary comment, leading to both of them getting kicked out of the house.
In this case, Camila apologized during the episode, but only when prompted by Leroy. And she did so again, via the Notes app, after the episode aired:
As another Challenge veteran, Veronica, revealed, though, there was more to the night than was shown.

What will be done? Nothing. After Camila's freakout, MTV flashed a cautionary message on screen about how racism is "unacceptable" (as in an unacceptable form of entertainment). Once again, it's unclear where the line is on what's considered offensive enough for the show.