"Ch-Ching," the dare-you new track from Chairlift, has a secret weapon beneath its sneaky horn jabs and handclaps: its consonants. The way singer Caroline Polachek emphasizes each word on the hook, cadences so textured that what she's even saying remains opaque, effects a kind of soothing crackle for the ASMR-inclined. They've hit on a pop goldmine not even Calvin Harris or Max Martin has prospected out, tapping into a huge, YouTube-tested market and maybe mapping out a new calculus for registering wins at radio.
I'm kidding, mostly; you're gonna jam along to this for its bhangra-referencing drum patterns and deeply singable uh-ohhhs, but the whispered bits do elevate its whole premise. And the premise is to the moon—in 2013 the duo crafted "No Angel" for Beyoncé, sister of their friend Solange, and it's easy to wonder whether this song, about tasking risks and living your dreams came from the discarded tracks they wrote for the superstar during that session. (You can imagine Bey singing it, right?)
If not, though, obviously imagining what their artfully skewed take on radio pop might be has elasticized their repertoire, and resulted in the kind of song that could really crack the mainstream in a landscape where Bieber's an unlikely EDM hero and Selena Gomez is dropping bars on UK funky house. (THE DREAM OF THE INTERNET IS REALIZED.)
"Ch Ching" also evokes "Ch Ching (Cheque 1 2)," Lady Sovereign's best song to date and the 2004 debut that blasted the grime emcee's cheeky kinda way across the Western world. (If it were still 2004, someone would do a mash-up of these two jams; in 2015, someone will still do a mash-up of these two jams, but we will hate them.)
The video for Chairlift's "Ch Ching" drops tomorrow, and appears to feature the duo doing some ill shit with their hands. In a bananas coincidence, Polachek, Patrick Wimberly, and Lady Sovereign are all wearing the same shade of traffic cone orange. It's a good look. Symbiosis is a companion vibe to ASMR. The dream of the internet is realized.
G/O Media may get a commission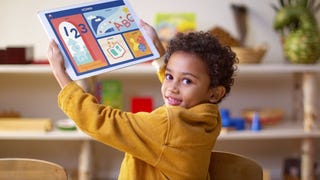 30-Day Free Trial
Homer Learn & Grow Program
---
Contact the author at julianne@jezebel.com.
Image via Chairlift