Celine Dion brought her singular brand of amazing to The Voice Monday night as a mentor for the aspiring pop stars that Gwen Stefani is coaching. Given how devoted The Voice is to the drama amongst its star coaches (it's as much a competition for them as it is the wannabes who are competing to become "the voice") and the various cults of their personalities, it's no surprise that Celine stole the show.
The genius of Celine Dion's persona is how her goofiness seems to clash with the overly earnest, mostly melodramatic nature of her music (ultimately, though, there is a certain consistency there, as Celine is devoted to massive expression on every front, whether she's being comedic or emotional). Right away it was clear that The Voice editors got this as they took a sincere interview bit wherein Celine gushed about being "stunned" by The Voice's amazing talent pool and her feeling of responsibility for mentoring the new generation and juxtaposed it with a quick flash of her doing a baritone Elvis Presley impression. No, thank you very much, editors.
Elsewhere, Celine advised an aspiring singer who goes by JChosen, "I felt you a little bit stuck into your wrong body. You have a beautiful body. Or should I say that in French?" Whatever, Celine, just keep talking!!!
"You cannot be good all the time; you have to be good when it's time," she told that same contestant, emphasizing the final three words of that advice like they were nails and her tongue was a hammer. She isn't wrong, though.
On the topic of melisma, Celine told JChosen, "If you go [singing], 'Haaaaaaah,' and it's not strong enough, you better go, 'Oh-ha-oooh-a-wooo-ooh-baby-behbeeey.'" It's just common sense people!
G/O Media may get a commission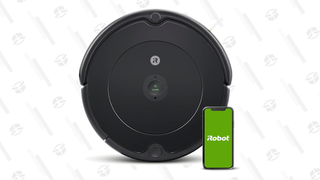 35% Off Black Friday Deal
iRobot Roomba 694 Robot Vacuum
Apropos of I'm not exactly sure what, Celine told Gwen's peeps after they were done practicing in front of her, "I tried so hard to get undressed for you to look at us." That's okay, there's always next time, but you know, Celine Dion could be wrapped up like a mummy and still be the main attraction. In fact, I kind of wish she would.