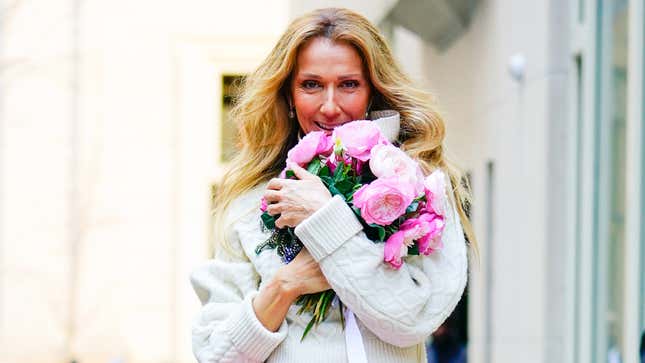 On Friday, fans of Celine Dion let Rolling Stone know in no uncertain terms that the publication had made a big mistake. A group of Dion devotees protested outside the mag's New York office (on what just happened to be the second anniversary of the January 6 insurrection) over the singer's exclusion from Rolling Stone's 200 Greatest Singers of All Time list, which published January 1.
Shakespeare Prepared Emma McDonald for Taking on Sci-Fi
"We wanted to make sure you understand that you missed the best singer in the world on your list—should be at least in the 200 top or at least in the 500 top...at least the first name on your list!," one of the protestors told a reporter from Rolling Stone. Variety reported that about 15 fans attended the protest, having driven south from Quebec. They reportedly chanted, "Justice for Celine," blasted "That's the Way It Is," held signs ("Rolling Stone You've Hit an Iceberg," read one, referencing Titanic, whose theme, "My Heart Will Go On," is Dion's signature English-language song), and, of course, sang:
The protest was the culmination of the biggest story to come out of the publication of Rolling Stone's list. Outlets including CBS and Glamour noted the loud backlash to the snub. It was, after all, needlessly out of step with Dion's current cultural appraisal, and '90s-era rockism seemed to underpin the omission.
During that decade, Dion's first in the American spotlight, the artist was largely regarded by the critical establishment as a schmaltzy facsimile of a soulful singer. The list's introduction went out of its way to note that "this is the Greatest Singers list, not the Greatest Voices List. Talent is impressive; genius is transcendent. Sure, many of the people here were born with massive pipes, perfect pitch, and boundless range. Others have rougher, stranger, or more delicate instruments." It further qualified: "In all cases, what mattered most to us was originality, influence, the depth of an artist's catalog, and the breadth of their musical legacy." The implication, then, was that what was more important than innate talent was what was done with it. Shady placements of powerhouses like Barbra Streisand (No. 147) and Christina Aguilera (No. 141) seemed to put this philosophy to practice.
Mariah Carey, however, placed at No. 5. She was regarded with much the same disdain by cool-fixated music writers in the '90s ("At full speed her range is so superhuman that each excessive note erodes the believability of the lyric she is singing," reads part of Rob Tannenbaum's review of 1991's Emotions), but has in the ensuing decades accrued a heap of critical good will. Certainly, Carey's voice has undergone changes over the years, and I'd argue that her waning ability to stand onstage and simply open her lungs and unleash has made her singing more expressive and soulful. Dion's voice, meanwhile, has stayed very much the same, as has the middle-of-the-road feel of her music, which means that those who have long dismissed her artistry may still be inclined to do so.
But Dion has undergone her own reappraisal, thanks in no small part to her larger-than-life persona. Her endless goofiness rounds out the gravity of her music nicely. The kinder way in which all forms of pop are regarded has been good to her adult-oriented catalog, which is full of bangers that themselves have the kind of exaggerated quality that only a voice a superhuman as Dion's could serve adequately. Case in point: "It's All Coming Back to Me Now."
And anyway, the sturdiness of a voice that has been blaring at such intensity for a good four decades in public should be proof enough of Dion's bonafides to make such a list. Retaining the ability to sound like herself after years and years of serving the public is something that a good singer does. Dion's voice has reached across generations and cultures. In his brilliant examination of the contrasts between the critical establishment's regard of Dion's work and the general public's love of her, Let's Talk About Love: A Journey to the End of Taste, journalist Carl Wilson writes of "friends and acquaintances who've told me that in Kazakhstan, Japan, Argentina, wherever, when locals found out they were Canadian, they'd be me with, 'Ah, Celine Dion!'" Her singing has effectively made her Canada's premier cultural ambassador.
On top of all of that, the snub seems particularly cruel coming on the heels of Dion's announcement that she has been diagnosed with stiff person syndrome. This is the kind of editorial error that will be swept under the rug when Dion is gone, and the fond remembrances flow. It's far better to appreciate our greats while we have them.
As for Dion's fans, they've taken the bait—these lists are compiled specifically to generate attention and outrage, which means making strange inclusions and key exclusions. That said, at least they got off their asses and really put some action behind their convictions. And they did it with the politeness we've come to expect from our neighbors up north.