In August, Barneys New York announced the concept for their holiday windows: A partnership with Disney, called Electric Holiday, in which Minnie Mouse, Goofy, and Daisy Duck — among others — are re-imagined as high fashion models. Meaning: Given stretched, slimmed down, impossibly proportioned ultra-thin bodies. Minnie was rendered approximately 5'11" and a size 0.
After the window concept was announced, Ragen Chastain — dancer, choreographer and author behind Dances With Fat (who has written for Jezebel) — started a petition called "Leave Minnie Mouse Alone." The petition reads, in part:
There is nothing wrong with tall thin women. There is something wrong with changing a beloved children's character's body so that it looks good in a dress that almost nobody looks good in…

Girls have enough pressure to be thin, now the beloved Disney mouse of their childhood has to add to the message that the only good body is a tall, size 0 body? Enough already. Let's give girls a chance to celebrate the actual bodies they have instead hating them for not fitting into a Lanvin dress.
The petition already has over 128,000 signatures, and now, Virginia Madsen, True Blood's Kristin Bauer, and Walt Disney's great-niece Abigail Disney — have joined in.
G/O Media may get a commission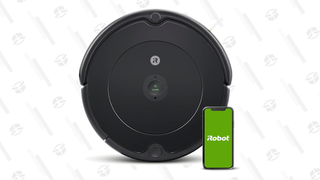 35% Off Black Friday Deal
iRobot Roomba 694 Robot Vacuum
It can be argued that this new Minnie is just a stylized fashiony caricature — not meant to be real. She's a cartoon, after all, and it's not like that body — those legs — are in any way realistic. But really, this is yet another example of how we're living in a culture that fetishizes thinness. We put the svelte on a pedestal, deem that shape worthy of accolades and adoration. Despite the fact that it has nothing to do with a person's character, morals, generosity, health, compassion or accomplishments. Why does having long legs or 3% body fat make one person more deserving of attention? The fact that Minnie is a character for children just adds insult to injury.
We contacted Barneys to find out if the windows are still on track to be unveiled on November 14, but have yet to hear back.
Barneys : Leave Minnie Mouse Alone [Change.org]