The stars are apparently so exhausted from awards season that only a few could be bothered to drag themselves to the launch of Grammy-winner Beyonce's fragrance, "Heat." Even though it was called "Catch the Fever at 15 Union Square West."
The woman of the hour! Kind of looks like she's about to break into "America" at a 1988 prom - but I'm not saying that like it's a bad thing.



Michelle Williams is rocking a mid-career Grace Jones look, always kind of good, and kind of problematic.



G/O Media may get a commission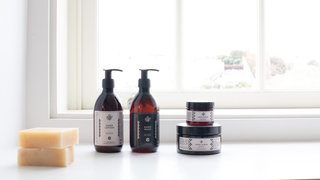 Exfoliate and Hydrate
The Handmade Soap Company
An unusually sober look from style icon Mr. Mickey Boardman.



Solange, by the way, was DJ. How do "professional" DJs feel about celebrity ones? I often wonder. Okay, sometimes wonder.



Natalie Semerari's like, "yeah I'm in an ostrich costume. Wanna make something of it?"



Is there anything more ignominious than being "guests" at an event? Like, you weren't even important enough for the photographer to find out your names? Do they not have eyes? And drinks? Do they not bleed?



Perhaps even worse? Being someone's "date." Here, Steve Kasuba is ID'd, but not his friend. It's even worse when the "guest" turns out to be a "wife" or "child."



What are the odds that Kathie Lee has just said something about either a) Beyonce's breasts or b) Beyonce's ass? I'd say really, really good.



Here it is: "Beyonce Heat" is apparently a cheap pomegranate-flavored liqueur sold to tourists in Budapest.



Usher's like, "look! It looks like a pomegranate-flavored liqueur! Doesn't it?"


[Images via Getty]