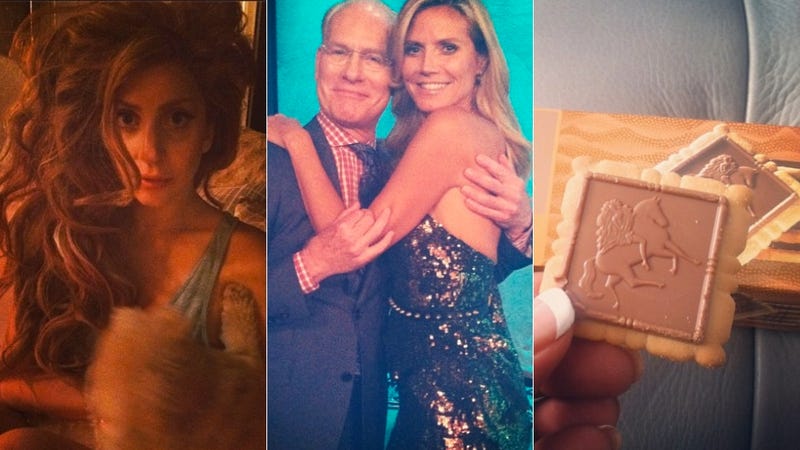 Here's what the stars were doing this week as they played paparazzi and turned the camera on themselves. Celebrity Instagrams (and maybe a Vine or two), presented without comment. Enjoy.
My sweetheart @beyonce and I chopped it up about Bash & Blue Ivy they're gonna get married 1 day.... Bash likes older women Lol
This guy just delivered me a pizza and I love him for that. #myhero
Mile High Monsters. Yikes!
I've been pressed into umpiring a charity match with Rainn Wilson, Jason Biggs, Monica Seles and Chris Evert
a little bit of drama backstage @JasonWu #nyfw
Thank You London for the hospitality, it was a true memory debuting my ARTPOP music in such a wonderful place.
Me and Fozzi watching scary movies
He looks like a real life stuffed animal
the spot
Just another day in the life. #idgaf
RAP GAME 4TH GRADE FAMiLY PORTRAiTS
VERSACE DiNNER
So nice to see fellow theater geek @AnaGasteyer visit our humble little set. This is us being pensive about our matching shirts.
Sly and I are having a great time working with our director @mr_huge here in Bulgaria.
It's about to be a problem @jfreewright @ericklarayharvey @hbo #boardwalkempire #sept8th
Backstage secrets from @ProjectRunway with@Zac_Posen and @ImNinaGarcia
another brick in the wall
Official "Sorry" cover art. Available for download on iTunes Sept. 17th!! Who's ready?!
Some things never change.. #NYFW
In honor of NSYNC...The only evidence of the brief period in which I had FROSTED TIPS. #MegaDork #throwbackthursday
What height difference? ;) How gorj is Maria Sharapova? #RZFW
With my partner in crime #TimGunn! Just saw some amazing collections on the runway at #NYFW! #DayInTheLife
This shit rycheeuh? This. Shit. Ry. Cheeuh?? #GoneIn60Seconds
@mikelohan @alianataylor @sammyer yoga.meditation. Rest&Relaxation=clarity
@jimmyfallon yummy! Eaten by me and @alianataylor :)