Geoff Marcy, an astronomer at the University of California at Berkeley, has been revered the world over for his pioneering research, even marked as a potential Nobel Laureate. Now he has been singled out as a serial perpetrator of sexual harassment, reigniting conversations in the science community about making laboratories safe spaces for women.
BuzzFeed was the first to report a university investigation concluding that Marcy "was found to have violated campus sexual harassment policies between 2001 and 2010. Four women alleged that Marcy repeatedly engaged in inappropriate behavior with students, including unwanted massages, kisses, and groping."
These unwanted advances are direct violations of Title IX, "a comprehensive law that prohibits discrimination on the basis of sex in any federally funded education program or activity." They are, moreover, according to Harvard astronomer John Asher Johnson—one of Marcy's former students—well known among the larger astronomy community. Johnson tells BuzzFeed:
"What's really infuriating about this is that anybody of my generation in the field of exoplanets knows that Geoff does this...Everybody is so afraid of doing anything about it that they are afraid of speaking out, but everybody knows it."

Like his former mentee, Marcy studies exoplanets—that is, "planets beyond our solar system." And according to Harvard professor David Charbonneau, who also spoke with BuzzFeed, he is "undeniably the most prominent researcher" in that particular field.
Berkeley of course values the affiliation of a tremendously decorated scholar and would likely prefer not to embark on the tangled process of firing a tenured faculty member. Forbes posits that this is in part motivation for the school to take no significant disciplinary action.
G/O Media may get a commission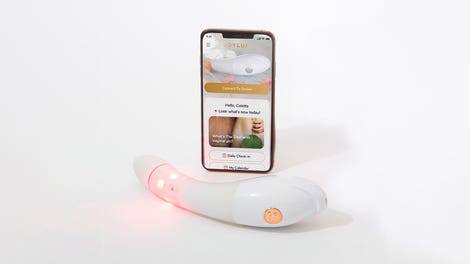 $50 Off
Joylux vFit Gold Device
And, as BuzzFeed notes, the repercussions have so far been minimal. Marcy received "clear expectations concerning his future interactions with students." If he does not heed them he may "risk 'sanctions that could include suspension or dismissal.'"
Marcy's own response to the allegations against him similarly refuse full ownership of his purported actions, resulting in what Rachel Feltman from The Washington Post refers to as a "non-apology." In an October 7, 2015 letter addressed to the Astronomy Community, Marcy writes,
"While I do not agree with each complaint that was made, it is clear that my behavior was unwelcomed by some women. I take full responsibility and hold myself accountable for my actions and the impact they had. For that and to the women affected, I sincerely apologize.

It is difficult to express how painful it is for me to realize that I was a source of distress for any of my women colleagues, however unintentional. Through deep and lengthy consultations, I have reflected carefully on my actions as well as issues of gender inequality, power, and privilege in our society. I was unaware of how these factors created unforeseen contexts and how my actions and position have affected other in ways that were far from what I intended. Through hard work, I have changed in major ways for the better."

Marcy's wife, principal and chief executive of the Pesticide Research Institute Susan Kegley similar relies on the defense of "misinterpretation" in her own emailed statement to the New York Times:
"Others may interpret Geoff's empathy and interest as a come-on. I can't change their perspectives, but I think it is worth all of us examining how quickly one is judged and condemned without knowing all the facts. The punishment Geoff is receiving here in the court of hysterical public opinion is far out of proportion to what he did and has taken responsibility for in his apology."

Of course, it's arguable that what Marcy received—a warning—is not meaningfully "punishment" of any kind. The protracted secrecy surrounding Marcy's indiscretions is alarming. The graduate students in UC Berkeley's Astronomy Department express as much in their own October 12, 2015 statement:
"We are appalled by Geoff Marcy's actions, and by the extended length of time his behavior continued without repercussions. Our concern is compounded by the University's decision to forego immediate disciplinary action, and by the secrecy surrounding the findings: most members of the Department learned about the report—months after it was issued—from an article on BuzzFeed."

Department women did attempt to warn one another about Marcy, but, as Forbes's Janet D. Stemwedel explains, the markedly uneven power dynamics between student and professor render it difficult to confront administrators about a faculty's harassment:
"The stakes for the target of the behavior of reporting can be extremely high if their harasser has a strong professional and social network through which he can influence whether she gets access to data or facilities required for her research, whether she gets to present her work at professional meetings, whether she gets connected with collaborators, how she is viewed by other senior people in the field making judgments about the distribution of grant money or jobs."

The larger astronomy community, focused as it is on achieving gender parity in the male-dominated field, has responded fervently. As Charbonneau explains to BuzzFeed, "when the most prominent person is a routine harasser, it threatens a major objective nationally."
Christina Richey, Chair of the Community on the Status of Women in Astronomy also released a message on October 12, 2015 emphasizing the need to understand "how harassment is occurring, how to report and respond to issues of harassment" and calling attention to the larger societal power dynamics that render harassment possible and ubiquitous.
Richey moreover calls on the community to "be the action" rather than to allow the burden to rest on the shoulders of the person attacked. The Chair of the Department of Astronomy and Astrophysics at UC Santa Cruz, together with the Director of UC Observatories addressed their students, faculty, and staff with a letter promising that "sexual harassment will not be tolerated in our community." They continue, "Individuals who violate this policy should be subject to strong disciplinary action."
It remains to be seen whether these motions towards more supportive and safer scientific communities—as well as demands for justice—will have any bearing on Marcy's future at Berkeley.
---
Contact the author at rachel.vorona.cote@jezebel.com.
Image via Getty.