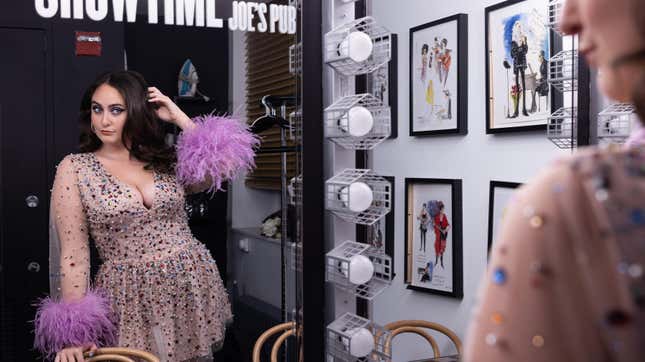 Catherine Cohen wants you to laugh at her neuroses. No, she's begging you to laugh at her neuroses—one, because she seems to like the attention, and two, because she knows you probably have them, too.
Ricky Gervais' "Jokes" Have Earned Him Dirt Bag of the Week!
Though Cohen begs for "external validation" throughout her new live comedy show Come for Me at Joe's Pub in Manhattan, I doubt she really needs it. The 31-year-old published her first book, a collection of comedic poetry called God I Feel Modern Tonight, in 2021; she dropped her first Netflix standup special The Twist… She's Gorgeous in 2022; she's acted in cult-favorite shows like Search Party and Broad City; and she currently co-hosts a podcast about dating called Seek Treatment. From a career perspective, Cohen is getting all the validation she could possibly need, and then some. Her life, as she once described it, is "a fucking dream." But even her glitter-addled fever dream can't compete with what she calls—well, sings—"the void."

"There's a hole in me, and for once I don't mean sexually: It's the void!" Cohen sings at her Saturday night crowd in the East Village. Much like the rest of her brazen set, the song scratches at the gnawing feeling that something is missing in her life, despite having a boyfriend who loves touching her tummy (a rare luxury!) and engaging in group sex, a rolodex of therapists and healers (one of whom instructed Cohen to dip her nipple in sparkling water for wellness, or something), and a bunch of her eggs frozen somewhere in Midtown. "They're all just hanging out without me!" she pouts.
Cohen takes the particular brand of brain-rotted disturbia that hyper-online Millennials know all too well and pushes it past the point of absurdity to delusional bliss. The casual narcissism we peddle on Instagram and TikTok—the result of a lifetime's worth of being perceived online—becomes one of Cohen's funniest bits. "I look like a whore who took up figure skating!" she yells, before complimenting her own tits and jiggling them in the audience's faces. Dating her is an "immersive experience," she says later, like "Sleep No More!" She's all feathers and gemstones and in-your-face, hollow confidence. I honestly find her frightening, like she might charge off the stage and step on my throat if I don't laugh at her jokes.

Thankfully, I never have to find out, because I do laugh at her jokes—snort, even—as does the rest of the crowd. Cohen's set feels stuck in perpetual fast-forward motion, doling out jokes, one-liners, and demands ("Uncross your arms!!!") like a Red Bull car on a racetrack. She reckons with the experience of living in a normal-sized body at the turn of a new decade ("...and that was the moment I ceased to be a sexual entity!"), the quest for spirituality without believing in something so humiliating as God ("God could've been cool like crystals are, but Republicans ruined it."), and developing a bird-brain controlled by algorithms and shopping ads ("Egg bites, egg bites, protein, caffeine, lobotomy!"). She stares down the barrel of motherhood and adult womanhood and finds it all too much to process. So she infantilizes herself, resorts to employing a "tee-hee" woo-girl demeanor, and talks about her vagina, instead.

As someone who never really felt seen by mainstream comedy, Cohen feels like the poster child of a new genre where bedazzled hyper-femininity isn't the butt of the joke but the vehicle for it. By the end of the evening, she's become an obnoxiously perfect avatar for millennial angst—at once self-obsessed and self-loathing. With a three-piece band at her side, Cohen's performance charts the hilarious tragedy that is being a young woman on the brink of child-rearing in a country that does not support us medically, financially, or otherwise. She gives us permission to laugh at ourselves and at the world, because what the fuck else can we do?

Cohen may never stop talking about needing therapy, but in doing so, she's become a comedic therapist for her audience members. Cheesy, I know. Then again, I can't imagine Cat Cohen would want it any other way.