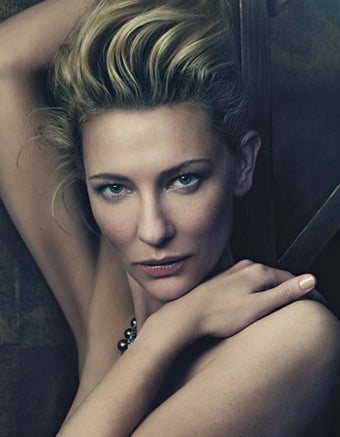 Cate Blanchett comes off as smart, silly, and charmingly self-deprecating in this W Magazine profile. And, as Danielle Stein writes: "Blanchett is the rare actress who does not lament the lack of good film roles for women."
Blanchett, who has played various characters — from a queen to a school teacher to an elf — tells the magazine: "I didn't go into the industry expecting to be wholly nurtured by it. I thought of it as a bit of an experiment."
The question is: Does she not have issues about the roles available to women because she has a great attitude? Because she's not expecting her roles to fulfill all of her needs? Or because she's been lucky enough to play strong, fully-realized characters?
It's probably a combination of both. The article is a portrait of a serious actress who doesn't take herself too seriously. We get a hint about Blanchett's approach in a quote from Liv Ullmann, who directed Blanchett in A Streetcar Named Desire. Ullman talks about the incident in which Blanchett was accidentally hit in the head with a prop on stage: "She was very bloody, and we had to stop the show for insurance reasons, but she was laughing," Ullmann says. "She wanted to keep going, in spite of the blood all over her costume."