When it comes to the children of the Real Housewives franchise, many are adored and some are despised, but none are as feared and respected as Milania Giudice of New Jersey. Welcome to Catching Up with Milania, where every week, we—as tribute—will be checking in with my hero, Bravo's dreaded daughter.
It might be 90 degrees in New York City, but it's the holidays on Real Housewives of New Jersey. Snow is on the ground, cheer is in the air, and Teresa Guidice is finally back with the Dreaded Milania and the other children who probably aren't worth naming individually.
While barely featured in this week's episode, Milania is—as she's always been— the star of the show. See how she riles her sisters with a mere quirk of the face?
"Milania, come on, man," sighs her older sister Gia as she tries to take a family Christmas photo. But Milania will not "come on, man" because Milania goes where she pleases.
Meanwhile, in the other room Teresa and Melissa are discussing their broken relationship and it's the same argument they've been having since Melissa joined the show. Teresa feels her brother, Joe Gorga, changed after marrying Melissa. Melissa wants to put aside their differences so that they can be a family again. Joe—a furiously stupid ape man whose integrity is receding faster than his hairline—picks at a plate of shrimp.
Teresa's talked a lot about how prison has turned her into a more thoughtful and reflective person (she meditates and does yoga now), but what she demonstrates to Melissa is that she's still the same old lunkheaded idiot that she's always been. She still doesn't listen, she still gets defensive and accusatory, she's still exhausting. In the other room, I imagine Milania is smiling. Discontent. Her favorite meal of all.
G/O Media may get a commission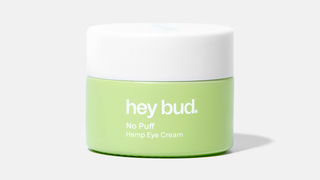 15% off
Hey Bud - No Puff Hemp Eye Cream
We jump forward to New Year's. Gia, at 14, wants to go hang with her friends, but her father, a golem by the name of Joe Giudice, tells her she has to stay home with her family and, after locking herself in a room, she eventually storms off into the night. Was the Dreaded Milania in the room with her? I don't have proof, but, yes, probably. Did she whisper to Gia to run run run and never come back? Did she say, "They don't appreciate you. Go on, teach them a lesson?" Time—and the legends—will tell.
No one suspected the Dreaded Milania as she curled up in a small ball under the couch.
"She likes to sleep there," Teresa says, fondly implying that this is something that's happened more than once.
Sleep, yes. The pastime of mortals. Milania's eyes flicker under their lids. Sleep, she laughs. Who needs it?