Angela Wang
I've shopped very little this year, which helped me justify participating in a glut of passive consumerism for the entire month of November. I also spent half the month in the technicolor shopping meccas of Tokyo and Shanghai—two cities that are basically designed to encourage people to drop money.

After a futile exercise in resisting the lure of every other brightly-lit drugstore in Tokyo, I amassed a small collection of popular Japanese beauty products, like Nivea "Bright Up" lip balm and Isehan Heroine mascara. I don't normally wear mascara, but I can only hope that the effect is stunning enough to move me to tears, a la the doe-eyed anime girl on the brand's packaging.

I replaced my Biore UV Aqua Rich Watery Essence sunscreen and travel-sized DHC cleansing oil and stocked up on Pure Smile sheet masks, which were all $1 apiece (with the exception of the "Will You Be A Cat?" mask, which required a premium price of $3). My favorite beauty purchase, though, was an impulse buy at a 24-hour Donki: Lion brand's foot/leg cooling gel patches. These things made made me feel like I had God's feet. They are delightfully tingly and practically undid five full days of walking.

G/O Media may get a commission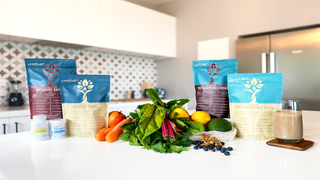 Beyond beauty purchases, I picked up two small ceramic vases in Yanaka, chopstick stands in Kitchen Town, a Stylenanda choker and socks in Harajuku, and gift bags and an egg-cooking timer from the 100-yen shop Can Do. I scoured too many grocery stores for my favorite rice cracker mixes (heavy on coated peanuts) and couldn't resist buying some "Catty Man Catty Snack" bonito treats for my cat. (She refused to try them, but was more than happy to help herself to some caramel gelato while our backs were turned.) Buying a matcha latte in New York is tantamount to extortion, so I was also very happy to also snag a large bag of matcha milk powder for five bucks.
In between family affairs in Shanghai, I found time to shop for a several skirts, silver staple stud earrings, and more snacks than I physically had space for. (I ended up checking my carry-on suitcase and carrying a new duffle bag packed full of crackers, mooncakes, suncakes, mochi treats, and hard-to-come-by torreya grandis nuts. It was very important to bring it all back.)
I found the aforementioned skirts—one mesh, one velour, and one color-block—in one of Shanghai's dystopian wholesale clothing districts. The area is home to several massive, multi-story buildings with vendors crammed in like sardines—the kinds of places where shoppers get mangled or die by faulty escalators. I don't typically see many tourists here, but this time I witnessed a white woman haggle aggressively to great success. People love giving things away to caucasians! When I attempt to bargain even modestly, I'm met with a barrage of insults in Chinese. I'll have to wear a blonde wig and a fur and come back.
To access open internet in China, I bought a month of AirVPN ahead of time. In addition to reading news and e-mail, I used it to take advantage of a UNIQLO sale, ordering the velour shirt and velour pants that I've had my eye on for a while.
Back in the States, on Black Friday, me and my basic ass bought a 10-class pack from my local yoga studio in Brooklyn for half off. I browsed Gilt for a leather jacket and ended up with a wool-blend coat instead. Then, I fell victim to Glossier's marketing tactics and ordered a Haloscope highlighter in Moonstone.
My ~cyber weekend~ concluded with a more meaningful purchase: a shirt from a friend's Etsy shop.
I also bought four books this month, in spite of having experienced the horrors of moving at least 200 pounds of books and magazines to a new apartment earlier this fall. Under the Banner of Heaven (a purchase triggered by a rumor I heard of polygamists in my hometown in Utah) made for good bedtime and in-flight reading—and I couldn't say no to Kon-Tiki or The Death of Ivan Ilyich for a dollar each at a used bookstore.

And finally, I ordered The Peregrine by J.A. Baker from Amazon, on Werner Herzog's recommendation. I love raptors and loathe human beings, so I think I'll like this book.
---
Joanna Rothkopf
After my great skincare awakening of early 2017, I had to put myself on a serious budget because I had dug myself into a stupid amount of debt with products that I can't even use anymore because I discovered they were clogging my pores—but that's for a different recurring feature.
So, enter fall 2017, I have a lot of useless face products but no body products, and was beginning to feel like a cave troll who just had a single once-white-now-brown button-up tee-shirt and one (1) pair of holey pants. That has CHANGED!
The first thing I got to become my new stylish fall self was a winter coat that I have wanted for approximately 100 years. It is from Acne Studios; it is grotesquely expensive; I just love it so much. Since it's just a wool shell it can get a little drafty when it dips below 40, so I also got this Uniqlo Ultra Light Down Compact jacket that has little buttons so you can snap down the collar so it doesn't show underneath fancier, lower-cut coats. In these two items I am both stylish and warm—the dream.
Given my tendencies to buy a bunch of cheap shit to fill space on my wall or in my heart, I've recently been trying not to purchase clothing and housewares unless I really love them and they really seem like they'll stick with me through thick and thin. That means that the bedroom, living room, and many walls in the apartment I moved into in March but plan on staying in for some time remain empty or in a half state of "this works for now." I finally saved up enough money, along with my fiancé (have you heard I'm engaged!?!?!?), to buy actual nice dressers to replace the broken Ikea garbage that has been making my life a living HELL!
We got two (2) dressers from Room & Board (where I would spend $1 million if I was able), a tall and skinny one and a short and fat one. So far the short and fat one has been the sole dresser to arrive (I believe the tall and skinny one is backordered until February which has my heart temporarily broken), and is she a marvel. Heavy drawers, smelly like paint, beautiful clean lines, I'm kvelling.
Additionally: I had holes in my black pants so I bought two new pairs of black pants—this time from Madewell. Like an idiot, I was too lazy to try them on in the store so I got them in two different sizes and two different cuts... They both work fine, so I'm keeping them. But!!!!! I also bought my first pair of NOT-BLACK fashion slacks (Is that a term?) which is ha-yuge for me, a woman who only wears black pants and who, in general, rarely wears color. I have worn these exactly three times and every one of them is an adventure.
I also bought a tiny table Christmas tree to be spirited and I am finding it is really doing a lot with just a little body.