In 2012, beauty writer and noted drug aficionado Cat Marnell sold a book proposal to Simon & Schuster for $500,000. Marnell, known for her xoJane beauty columns about partying, had a gift for glamorizing what would be, in a lesser writer's hands, perhaps a rock bottom. "Look, I couldn't spend another summer meeting deadlines behind a computer at night when I could be on the rooftop of Le Bain looking for shooting stars and smoking angel dust with my friends and writing a book, which is what I'm doing next," she told Page Six at the time, just after she and xoJane parted ways following another failed rehab attempt.

She was New York City tabloid fodder, coverage of her exploits appearing regularly on the pages of the New York Times, the New York Post, Gawker, and the Daily Mail. Her own boyfriend, the then-editor-in-chief of Gawker, wrote about her "glamorous" addiction during Hurricane Sandy in 2012.
Then she got the book deal and sort of dropped off the radar.
In that time, Gawker shut down, and the "It Happened to Me" form withered and died, officially, when xoJane ceased publishing in December 2016. But Marnell's memoir, a book-length IHTM called How to Murder Your Life, and its subsequent press, has made it all feel like 2011 again.
G/O Media may get a commission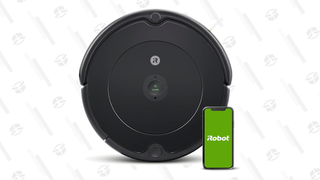 35% Off Black Friday Deal
iRobot Roomba 694 Robot Vacuum
It took Marnell about three years to finish the book, which spans from her quietly unhappy childhood in her parents' Frank Lloyd Wright-designed home in D.C. to a series of high-profile media jobs at Lucky Magazine and xoJane that read a bit like if Anne Hathaway's character in the Devil Wears Prada had been played by Courtney Love, a personal hero of Marnell's. Friends speculated anonymously that she'd use her considerable advance for no good, and, at least in the comment section of Gawker, those familiar with her work doubted she'd finish the project. But she did. And it's good.

Marnell's writing is funny, self-deprecating, and deeply appealing to the type of person who reread Valley of the Dolls. The book features a breezy voice, moments of real insight, and stellar name-dropping. It's not hard to imagine some of it—the free open bars and free designer gifts and free private jets, at least—being really fun. And that's a testament to her writing, because in truth it sounds exhausting to be a famous drug addict, hallucinating mice in your apartment and gamely maintaining shockingly toxic relationships with people who steal from you or have sex with you while you're sleeping, all while losing job after job.
I was twenty-six years old and an associate beauty editor at Lucky, one of the top fashion magazines in America, and that's all most people knew about me. But beneath the surface, I was full of secrets: I was an addict, for one. A pillhead! I was also an alcoholic-in-training who drank warm Veuve Clicquot after work, alone in my boss's office with the door closed; a conniving uptown doctor shopper who haunted twenty-four-hour pharmacies while my coworkers were at home watching True Blood in bed with their boyfriends; a salami-and-provolone-puking bulimic who spent a hundred dollars a day on binge foods when things got bad (and they got bad often); a weepy, wobbly hallucination-prone insomniac who jumped six feet in the air à la Lebron James and gobbled Valium every time a floorboard squeaked in her apartment; a tweaky self-mutilator who sat in front of The Tonight Show with Jay Leno, digging gory abscesses into her bikini line with Tweezerman Satin Edge Needle Nose Tweezers; a slutty and self-loathing downtown party girl fellatrix rushing to ruin and—perhaps most of all—a lonely weirdo who felt like she was underwater most of the time. My brains were so scrambled you could have ordered them for brunch at Sarabeth's; I let art-world guys choke me out during unprotected sex; I only had one friend, a Dash Snow-wannabe named Marco who tried to stick syringes in my neck and once slurped from my nostrils when I got a cocaine nosebleed; my roommate, Nev "catfish" Schulman, wanted me out of our East Village two-bedroom; my parents weren't talking to me ever since I'd stuck my dad with a thirty-thousand-dollar rehab bill. I took baths every morning because I was too weak to stand in the shower; I wrote rent checks in highlighter; I had three prescribing psychiatrists and zero OB-GYNs or dentists; I kept such insane hours that I never knew whether to put on day cream or night cream; and I never, ever called my grandma.
If some of it sounds familiar, it's because it is. Much of Marnell's memoir has appeared in some form or another in the xoJane columns that launched her onto Page Six and the Vice columns that kept her there. There's the one about the best detangler to use when your hair is matted into dreadlocks because you've been washing it in the bath because it's too hard to shower when you're on drugs, and the now-deleted one about eyeliner that's also about the first Adderall prescription she got from her dad. This is not to say the book is a retread: she also details, for the first time in print, a series of soulless sexual encounters and a chilling relationship with a friend who repeatedly robs and abuses her and once drank her drug-induced nosebleed.
But that's the problem with a never-ending cycle of addiction. Marnell's stories start to repeat themselves, as she moves from her chilly parents' home to boarding school to the city to rehab to the city to rehab, and so on. And it's still happening. Some time after her book advance came in, she went to a Thailand rehab facility famous for, at least temporarily, helping former Libertines frontman Pete Doherty. After she handed in her final manuscript, Marnell recently told Emily Gould (another former Gawker editor), she went back to her parents' home for some time off. Now she's back in New York City, where, she's told interviewers, she's taking Adderall, bumps of coke, and "no sleep aids except Ambien and nonnarcotic antidepressant Trazodone."
Maybe she's fine, maybe she's not. When your job is to take a lot of drugs, go to parties and then write about it, it's hard to say where the line between a real drug addiction and a performative one lies. But Marnell's book doesn't try to force her book's ending on a high note; she writes that she hasn't yet found a long-lasting type of sobriety, just a functioning balance. Probably.
"I'm going to tell you right now that there is a voice that comes out in me when I write for Jane that says 'I'm getting better,' like all reassuringly, which caters to women—and I do it without realizing it," she told Vice in 2012 , though it could have been this year. "Sometimes it's true. But I'm really not planning on getting better. It's like everyone is always encouraging my recovery. Women do it in real life and online. So I often write in this fake way that reflects that, that I'm on that track. It's weird from a perspective you rarely hear. Out loud, anyway."
But Marnell, whose addiction is essentially her livelihood, has no real reason to clean up, beyond her own peace of mind. Every day is new fodder for her columns, for the columns other people write about her, and, if she's lucky, for her next book. If the reception to How to Murder Your Life, is any indication, readers don't necessarily care about a redemption story—just the glamorously gory details. And on that, Marnell has always delivered. History, she does repeat herself, and repeat herself.
Full disclosure: I once almost bought an oversize Saarinen tulip table from Marnell, but she sold it to someone else.