In July 1995, Kids, the movie that teamed photographer-turned-director Larry Clark up with aspiring writer Harmony Korine, was released. The film followed a group of New York City kids whose lives were solely focused on three things: sex, drugs and skateboarding. In a review, Roger Ebert examined the nihilism of the characters, saying, "They could have been raised in a zoo, educated only to the base instincts." Kids was the antithesis to something like Clueless, another teen film that came out during that time.
Ana Gasteyer Satirizes the Girl Boss in 'American Auto'
Before Kids, Chloe Sevigny had worked as a shopgirl and Rosario Dawson had just graduated junior high. The movie marked the beginning for their careers, while others didn't get to make it as far. Two members of the cast, Justin Pierce and skate legend Harold Hunter, passed away. Clark and Korine worked together again several years later for 2002's Ken Park.
To celebrate the movie's 20th anniversary, Rolling Stone gathered interviews from Korine, Clark, the cast and producers to put together an oral history.

Fitzpatrick talks about getting into fistfights on set while Clark, at 50, taught himself how to skateboard in order to keep up with the kids. Dawson experienced her first kiss between shooting while Sevigny discusses dating and subsequently moving in with Korine after the film was made. Korine describes the weird course of events leading to the gig with Clark:
I had put my number on the videotape, and got a phone call that he liked [my stuff]; he wanted to see if I could write. By this strange coincidence I had just written a script for a school assignment, about a kid whose dad takes him to a prostitute on his 13th birthday—he talks the kid through the whole process as he's boning. Larry seemed excited by it. He said he had this idea to make a movie about a kid, Telly, who takes girls' virginities, like a kind of virgin surgeon.

I figured it should take about a week to write. There was a very simple outline that Larry had come up with, but otherwise I really didn't know what would happen from page to page. I just sat down and let it fly.
G/O Media may get a commission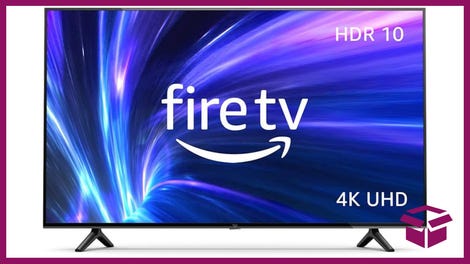 42% Off
Amazon Fire TV 50" 4K Smart TV
Other gems include Sevigny's first taste of fame:

When the film went to the Indie spirit awards, they brought us all. They put us all in the Chateau [Marmont] and we were all in one bungalow. I brought my mom. I remember being at the pool, and it was one of my first times in LA, and my mom had like some crappy point-and-shoot camera, and I was like mom, it's too bright. And Paul Schrader was sitting by the pool, and he was like 'You've got to learn to look in the light if you want to be an actress.' I was like, whoa.
And this gem from Korine:
At Cannes, I was like skateboarding down the red carpet. It was funny and completely retarded. Mostly it was the girls who were around that were exciting for me. I remember seeing a girl deep-throating an ice-pop made of caviar, and she's wearing, like, a thong. It was another world.
---
Contact the author at marie.lodi@jezebel.com.

Image via Miramax Films/screencap.