"I tell my younger friends that no matter how I go, I want it reported that I drowned in moonlight, strangled by own bra," wrote Carrie Fisher in her 2008 memoir, Wishful Drinking, in what is truly the most apposite, preemptive obit of the modern era—one resonating far louder this week with the news of her death at age 60. It's particularly appropriate for a woman who has spent the better part of her adult life fending off trolls (long before Twitter made that a fun game for all of us), bucking the stigma surrounding bipolar disorder—sometimes called manic depression—and fighting a battery of addictions. Fisher was an indelible, often painfully self-deprecating figure who lent an honest lens into the silent battles of drug addiction and mental illness, making it easier for many of us to face down our own demons and seek appropriate help.
I first came across a 2000 interview between Fisher and Diane Sawyer and heard my own struggles echoed so much more eloquently and with fearlessness that I realize, in the wake of her death, has had a massive impact on public discussion of these issues. In the interview, she discussed what it meant to live with manic depression, and how she'd self-medicated until she was nearly 30 with a grip of substances that included prescription drugs, cocaine, heroin, and more. Her openness about her decades-long struggle with addiction has been well documented in Sawyer's interview as well as countless others (I'd point as well to an interview she did with Larry King in the '90s), and in her writing, perhaps most notably Postcards from the Edge, a semi-autobiographical novel that chronicled her rehabilitation.
During her interview with Sawyer, Fisher was asked if she was terrified to call herself mentally ill. "No, no," she replied, shaking her head dismissively. "I'm mentally ill. I have a chemical imbalance that in its most extreme state will lead me to a mental hospital." So stigmatized is psychological instability in our society that to admit you struggle with a mental illness is a tremendously difficult feat—for many, it's saddled with unsolicited shame. But, of course, cases of mental illness are not the anomalies they are often perceived to be. A 2014 statistic from the National Institute of Mental Health found that 18.1 percent (43.6 million) of all U.S. adults are living with a mental illness, while 4.2 percent (9.8 million) were living with a serious mental illness.
It took me nearly 10 years to accept that the symptoms of my own mental illness, severe depression coupled with a debilitating anxiety disorder, were not only serious in their scope—characterized by periods of obsessive behaviors; sleepless, days-long benders (conversely, an inability to leave bed for days at a time); extreme weight loss; and suicidal ideation—but also potentially deadly. My preferred poison was cocaine, which I began using recreationally when I was a teenager, and used daily in my early 20s. Self-medicating is a bandaid so lacking in adhesive that eventually it refuses to stick altogether, exposing a grotesque wound of unchecked mental instability. It's often difficult to ask for help from the center of that mental turmoil. Admitting that I was mentally ill would mean I'd have to come to terms with my drug addiction, two beasts that had so intimately coiled around each other that it was difficult to decipher where one began and the other ended. It personally took hitting my own proverbial rock bottom (being unceremoniously, almost comically released from police custody at 4 a.m. on a weekday) to come to terms with the fact that habitual abuse was no long-term (or even short-term) cure for mental illness.
G/O Media may get a commission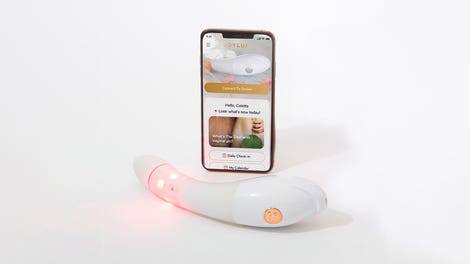 $50 Off
Joylux vFit Gold Device
Today, I have been medicated for nearly five years, thanks in part to fiercely unapologetic women like Fisher. Her openness on these topics still offers the same comfort as they did in even the darkest times.
For me, Fisher was among the first to connect mental illness with addiction. Self-medicating with drugs and alcohol is a common way of coping with the isolating symptoms of mental illness. Fisher has spoken at length about how substance abuse can seemingly counter the symptoms of a condition, offering a false sense of normalcy (sometimes even euphoria) when they become too great to cope with on your own. "I thought they told me I was manic depressive to make me feel better about being a drug addict," she told Sawyer. "It's what you think. If you could just control yourself. You had an indulged childhood. You were a child of privilege. I don't know, that's what I thought. You're just a drug addict."
If not for Fisher's unflappable strength and public advocacy, it's difficult to imagine how much more rocky the path to recovery would be for many struggling with mental illness and addiction of all stripes. I've personally been moved by Fisher's dismissal of assaults on topics as vacuous as her inability to remain young and beautiful for eternity (selfish!) while celebrating her own triumphs as a successful multi-hyphenate, survivor, and speaker. "Please stop debating about whether or not I've aged well," she tweeted almost a year ago to the day. "Unfortunately it hurts all three of my feelings. My body hasn't aged as well as I have. Blow us."
Fisher suffered cardiac arrest while promoting her book The Princess Diarist, a sardonic recounting of what happened behind the scenes during the filming of Star Wars. Since then, her fans have swarmed social media to share their personal stories of how Fisher offered them solace and reassurance when dealing with the isolation of mental illness and addiction. She has been celebrated for her candor as Bipolar Woman of the Year (this and every), and in her wake has left a massive hole in mental illness advocacy. In Wishful Drinking, she wrote:
One of the things that baffles me (and there are quite a few) is how there can be so much lingering stigma with regards to mental illness, specifically bipolar disorder. In my opinion, living with manic depression takes a tremendous amount of balls. Not unlike a tour of Afghanistan (though the bombs and bullets, in this case, come from the inside). At times, being bipolar can be an all-consuming challenge, requiring a lot of stamina and even more courage, so if you're living with this illness and functioning at all, it's something to be proud of, not ashamed of. They should issue medals along with the steady stream of medication.

Thank you, humbly, for your lessons.
---
Catie Keck is a writer and editor living in New York. Her work has appeared in New York Magazine, Rolling Stone, and Complex, among other web and print publications. Follow her bad tweets @catiekeck.