If there is one thing Celine Dion loves, it's being Celine Dion. If there's another, it's shoes. If there's a third, it's probably singing, though if I found out she was sick of it—sick of pushing past 10 night after night after night during the climax of "My Heart Will Go On"—I would not hold it against her. Regardless, there was plenty of all of those things during her extended appearance on Monday's episode of the Carpool Karaoke Primetime Special.
Regardless of your feelings about Carpool Karaoke (I have 'em too), this was a very special, unmissable episode thanks to Celine Dion bringing her A-game, tulle pussy bow, and rubber face.
She has the uncanny ability to make a grown adult feel like an infant whose eyes just started focusing. She started singing virtually as soon as she got in the car, before host James Corden even turned on music. It streamed out of her like "toxins" in a sauna, this a cappella medley that included "My Heart Will Go On," the Pointer Sisters' "I'm So Excited," "I Drove All Night," Rihanna's "Work," and Donna Summer's "On the Radio."
As in control of her effervescence as she seems to be, Celine Dion radiates goofiness to the extent that it seems she could never entirely catch up with herself, never be fully in on her own joke. She does what she wants, waits for you to eat it up. As entertainers go, she seems truly free, this post-camp creation who can't help but entertain even in her moments of restraint. The past decade has found her leaning into her comedic effect, but earnestness punctuates silliness in a way that is delightfully jarring. After she got in the car and Corden asked if she likes living in Las Vegas, the site of their musical joyride, she said extremely seriously, "I live where my heart is." No joke intended, but what a line—it's as saucer-eyed idealistic as it is literally true. It's a vital organ!
After Corden remarked that he felt she could make anything sound dramatic, Dion confirmed, "I can make something funny dramatic," in such a blasé manner (while casually scratching her head) to evoke a superhero discussing her special power. Being so good gets almost boring.
She then tore into a chest-pounding rendition of "Baby Shark."
Highlights also included a segment in which Dion was made to hand out shoes from her collection, which she admits could be as extensive as 10,000 pairs. She described a storage system for them involving automatic, rotating shelves that sounded like the one Goldie Hawn's Overboard character had on steroids.
She really, really did not want to get rid of her shoes.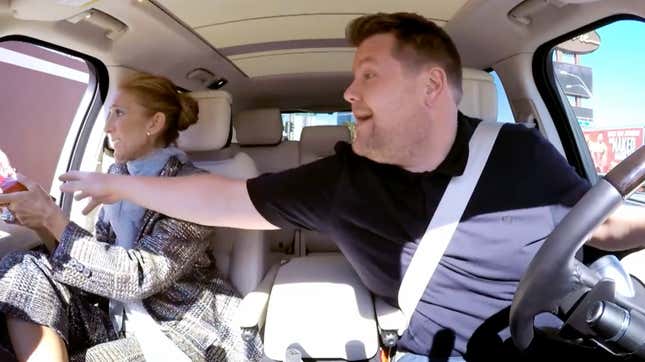 She kissed Corden on the mouth???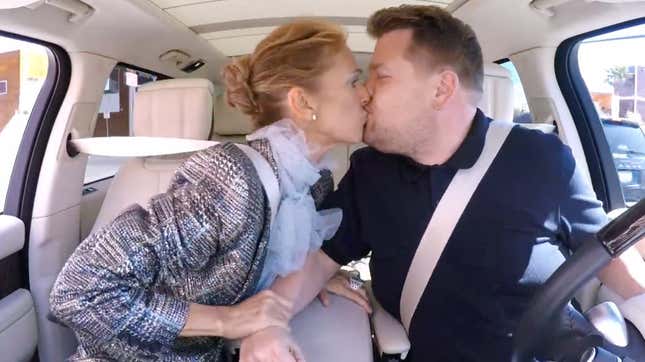 They did a Titanic bit in the fountain at Caesars???????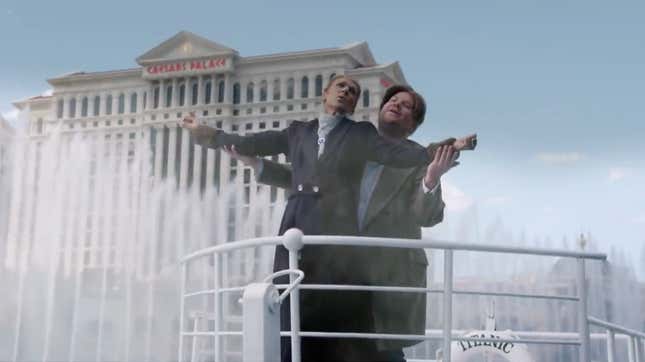 What else do you need? How about some hammy, self-serious facial acting.
And so in conclusion, Celine Dion is the best person and you should pay attention to everything she does.