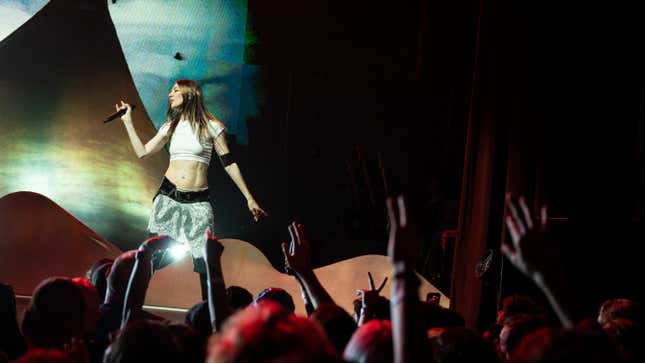 If you happened to be in Midtown Manhattan on Saturday night, you might have assumed Gay Church had convened on 6th Avenue—and you wouldn't have been far off.
The Cast of 'Jersey Shore: Family Vacation' Think All Roadtrips Are Shitshows
That evening, leather-clad shes, gays, and theys braved the summer rain to descend upon Radio City Music Hall for a much-anticipated exorcism by alt-pop artist (and/or God depending on your religious affiliation) Caroline Polachek. As a newer fan, I'd become totally enchanted by Polachek's coquettish displays of camp—crawling around on her knees on album art and in videos, shouting in French, breaking glasses—and was expecting the same sort of coy affection from the fans she attracted. Instead, I found total and raucous devotion; a sold-out show with sprawling lines in every direction to enter the venue, for drinks, and for merchandise featuring Caroline's naked silhouette; an electric hum hung above the crowd. We all wanted Caroline platonically, romantically, even spiritually.
The 37-year-old singer, songwriter, and producer was in town touring her latest album, Desire, I Want to Turn Into You—generally regarded as her most profound musical effort to date and a joyous ode to yearning, romance, and self-constructed delusions. Beneath the glow of the venue's art-deco sunbeams, Polachek looked less like an indie siren courting a mainstream audience and more like a woman on fire, born to withstand the heat of fame.

I say this not because Polachek is a sensational vocalist—of course she is, and her operatic whistles could buckle the knees of her worst enemies—but because she possesses that je ne sais quoi that makes someone a star. Onstage, she's all chaos: atoms colliding, bursting, and fusing at random only to conjure a presence inexplicably natural and serene. Wrapped in ribbons of red satin and backed by shifting visuals of a rumbling volcano and swimming sperm, Polachek guides the audience's attention with a wave of her hips. She reaches to the third ring of the audience, then curls her fingers into her palm, beckoning them towards her. She uses her body to draw us in, and it works. She becomes the desire she seeks.
Across renditions of beloved singles "Welcome to My Island" and "Bunny Is a Rider," Polachek galloped back and forth across the stage, letting out primal screams. I couldn't shake the feeling that we'd all been happily indoctrinated into some sacred coven. Our bodies rocked in time, chained to the cresting wave of her voice as she transported us from hopeful pop anthems to wailing ballads and sultry whispers. Behind her flickered images of pastel lagoons, barren trees, and satanic flames. "I'm wearing black to mourn thе sudden loss of innocence," she sings. "And that's alright bеcause it hides the dirt and hides the wine."
Though her performance lasted just over an hour and a half, in that short time, Polachek braided her sensuality, suffering, and romantic fantasies into an all-consuming vision that left me convinced this woman was always destined to be famous. And though her looming "divadom" is an archetype she once rejected, Polachek seemed to warm to the label in a recent Pitchfork interview:

"Maybe also because I associate the diva [in opera] with the glittering glamor of mega-fame as well. But I started thinking about it in a more spiritual way...The diva is essentially a woman character and not a girl. There's this sense of commanding strength of adulthood in it rather than, like, sexy ingenue. It's very different. The second thing is that the diva inherently holds this contradiction of being able to destroy and heal at the same time. That's what makes a diva so precarious. Like, you serve her the wrong kind of champagne, and she will cancel the gig. Also, she has the power to make every single person in that room be at peace with themselves...And that kind of unpredictability is why diva is a pejorative term. Like, 'Oh, she's a fucking diva.' But you wouldn't call somebody that if they didn't have the power to do something really incredible.
Polachek embodies this paradox—the faint line between total destruction and the promise of rapture. I'd have happily allowed her to destroy me by the time she wrapped her encore with the longing acid trip that is "Door." In the cab ride home, I rested my forehead against the window, letting traffic lights blur my vision and humming, "I don't know, but I believe."