Carly Fiorina—former CEO, firer of people, person with moderate issues re: telling the truth— hasn't been much seen since suspending her presidential campaign in February. Now, praise God, here she is, with a bizarre little ad about her own, highly specific concept of feminism.
Ana Gasteyer Satirizes the Girl Boss in 'American Auto'
The ad was put on Twitter Monday night, produced by Carly For America, the super PAC supporting this person who is no longer running for anything:
"A feminist," Carly intones, in a snippet from an old speech, "is a woman who lives the live she chooses." Unless, of course, that choice means getting an abortion (Fiorina's very much against that), or joining a union (she doesn't like those either).
"We will have arrived when every woman can decide for herself how to best find and use her god-given gifts," Fiorina adds. (So long as flexing those God-given gifts doesn't ever involve wanting to make a slightly higher minimum wage, which Fiorina also doesn't support).
G/O Media may get a commission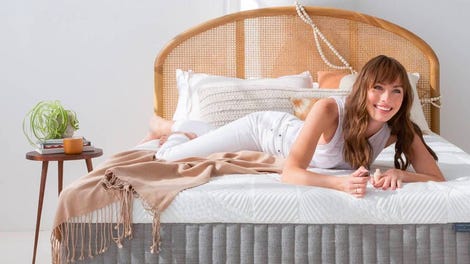 Sleep Sale
Sleep Sale - Brentwood Home
"A woman may choose to have five children and homeschool them. She may choose to become a CEO or to become a candidate," she adds. "I am a conservative, because I know we are all equal in the eyes of God, men and women alike." (Which presumably renders the need for equal pay irrelevant, or even the need for paid maternity leave, which, again, are not things Fiorina supports).
Carly first presented her muddled brand of feminism during her campaign and in her dropping-out statement, where she called it "not an ideology." Fiorina endorsed Ted Cruz in March and is perhaps gunning for a VP slot or a spot in his never-to-exist cabinet. Because no one supports women's rights more than Ted Cruz, except for, perhaps, literally everyone.
---
Fiorina with fellow lover of women or whatever Ted Cruz, March 11, 2016. Photo via AP