It's mere days until November 15, when Cardi B drops her highly anticipated line with Los Angeles-based fast fashion company Fashion Nova and she ready. 

In a new interview with Business of Fashion, Cardi discusses her relationship with the brand, creating their first ever celeb collaboration, and how she hopes to make us all look damn good in her signature collection.
"They are always loyal to me. It's like a friendship now. I'm also really proud of them," Cardi said of Fashion Nova, which somehow releases 1,000 new items weekly. "Their brand has sold so much, and I have sold so much at the same time and it's like, 'Yay, we did it!' We both did it at the same time."
Cardi's line will include 80 items in a wide-range of sizes (straight and curve) including: suits, blouses, dresses, outerwear, denim, knitwear and accessories. Shoes, unfortunately, are not happening this time around.
As for the style, Cardi says (emphasis mine):
"Every little detail to me matters. I want to make these women look so happy — so radiant, sexy, so corporate and poppin'. I want them to look like they're wearing Gucci and Prada, but they're not, they're wearing my line...

...Sometimes, designers don't have what I'm looking for. Designers don't make jeans that fit me. I have a big butt, and they seem not to fit me. The only jeans that fit me would be like Fashion Nova jeans. That's how I balance it out. I don't care if it cost $20 or $15. If it looks good on me, it looks good on me. I can style it up."
G/O Media may get a commission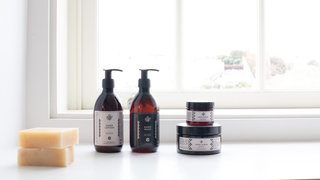 Exfoliate and Hydrate
The Handmade Soap Company
Corpo with a titty cutout, everyone's look for 2019!
She also described the pain of having a big ass and struggling to find clothes that work for curvy body types:
"Sometimes when I wear a trench coat, I feel like it looks a little weird where you tie it. It looks a little baggy on the top, and then it looks a little flat on the bottom. I specifically do not like that, so I made sure that the tailoring was right on that...

...What I don't like about wearing jeans is when the butt is boxy. And I don't like when there is that little space in the butt part, between your back, do you know what I'm talking about? That's my biggest pet peeve."
If her line truly alleviates that problem, and makes me look even a fraction as good as her in the "Bartier Cardi" video, then please, take all of my money—in affordable, $40 increments.
Read the full conversation here.