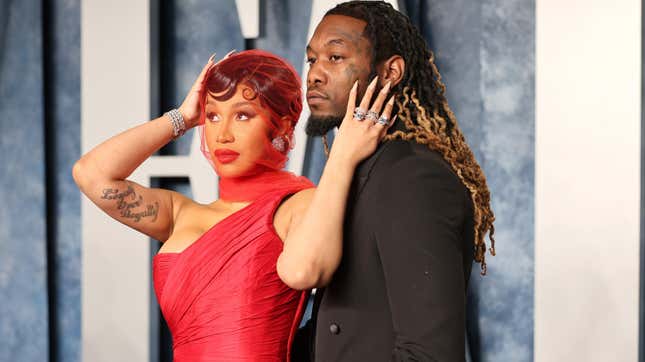 After Offset (né Kiari Kendrell Cephus) posted and then deleted an Instagram story on Monday alleged that his on-again-off-again partner Cardi B cheated on him, Cardi had a whole lot to say in defense of herself.
Pro-Abortion Protesters in NYC Have Two Words for SCOTUS
On Twitter Spaces Monday night (she is so online, I love her), the rapper started singing Keyshia Cole's "I Should Have Cheated."
"First of all, let me say, you can't accuse me of all the things you know that you are guilty of. Sing it with me, y'all!" Cardi sang. "And I see that it is easy for you to blame everything on me. Yes, honey!"
After the rendition, she got into the insults. "Listen, don't pay attention to that country man," she said of Offset. "That motherfucker spiraling and thinking shit."
It got better from there: "Come on, y'all. I'm fucking Cardi B n—. I think sometimes motherfuckers forget I'm Cardi B," she said. "If I was giving this pussy to anybody, it would be out. I'm not just anybody."
Then she added the coup de grâce. Here's People's transcript of her comments:
"Can't fuck no regular degular shmegular 'cause they gonna tell the world," Cardi said "And I can't fuck nobody in the industry 'cause they gonna tell too."

"Please boy, stop acting stupid. Stop acting stupid. Going crazy over a fucking Space. Don't play with me. What the fuck. Stop playing. That's all I'm gonna motherfucking say."

"Get the fuck out of here, n——. Like, you can't be serious," she continued after singing a bit more. "Don't play, motherfucker. Got me looking fucking crazy and shit for no reason. Anyways, I'm out. Y'all know what it is."
What's really fucked up about Offset publicly accusing Cardi of cheating is that he has publicly cheated on her before and after they got married. In fact, he even interrupted her set (at her job!) at Rolling Loud in 2018 to try to publicly shame her into forgiving him. It was her headlining set, and he made it about him.
Though Migos isn't as big as they once were when all members were alive, Offset is still a massive celebrity—and so his is fucking wife! This behavior is so beneath him, I don't blame Cardi for sinking to his level. If you want to air your alleged dirty laundry out in public, you should make sure you're not married to someone who made being funny online into a multimillion dollar career across multiple industries and frankly should be America's Poet Laureate! Team Cardi forever.