When it comes to stories about interpersonal relationships between celebrities—I'm talking feuds or relationship woes—TMZ isn't the best place to go for the truth. They typically pick a side to support, while leaving details from the other woefully underreported.
But when it comes to easily verifiable life events—marriages, pregnancies, or (on a sadder note) deaths—they're generally pretty trustworthy. So when I read a headline like, say, "CARDI B: Her Team Telling People SHE'S PREGNANT!!!" I think, I guess Cardi B's pregnant!
The news is based on sources who claim Cardi's "team" told people the rapper was "three to four months pregnant" during a Maxim party over Super Bowl weekend. They write:
One of Cardi's reps then said she didn't want to be in a "party atmosphere" and preferred to stay in the area by the stage and drink Fiji water. The rep then told the staffer Cardi was 3 to 4 months pregnant.
Cardi has not responded to this specific reporting, but did comment on a fan's pregnancy-related Instagram comment last week. "No bitch I'm just getting fat," she wrote. "Let me fat in peace."
Typically I'd say, "Trust the celebrity's Instagram comment." But, like I said, that TMZ headline is convincing!
G/O Media may get a commission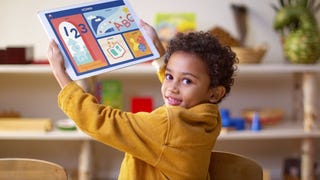 30-Day Free Trial
Homer Learn & Grow Program
[TMZ]
---
Lena Dunham wrote about her recent hysterectomy in this month's issue of Vogue. Here's an excerpt:

"In addition to endometrial disease, an odd hump-like protrusion and a septum running down the middle, I have retrograde bleeding, a.k.a. my period running in reverse so that my stomach is full of blood.

[...]

I may have felt choiceless before, but I know I have choices now. Soon I'll start exploring whether my ovaries, which remain someplace inside me in that vast cavern of organs and scar tissue, have eggs. Adoption is a thrilling truth I'll pursue with all my might."
[Variety]
---
I would not want to share an apartment with him. He looks very…dry. And, look, I can handle a scruffy looking man. But I can't handle bad breath. Do you think Norman Reedus has nice breath?
---
What? Did you think a story about Piers Morgan and Omarosa Manigault would be good? [Us Weekly]

Frances Bean Cobain has been sober for two years. [People]

Jennifer Aniston's best friends are Courtenay Cox, ????????, ????????, ????????, ????????, ????????, and ????????. [People]

This is how you write a headline. [Just Jared]

Who said this: "I read. I always try to find time. Waiting for a child. I read on the subway. On the set, I have a book hidden under a dress or under a couch. For me reading is like disappearing. It transports me. And when I get into bed, I watch TV. I love TV. I love the news. It drives me bananas. I love watching Rachel Maddow. I love House Hunters International. I love Dateline. I love 30 for 30 on ESPN." [People]