There is a lot of drama happening at Cannes right now over Netflix movies!
This is the first year that Netflix has submitted films to open at the Cannes competition: Okja, directed by Bong Joon-ho and starring Tilda Swinton and Jake Gyllenhaal; and The Meyerowitz Stories, directed by Noah Baumbach starring Adam Sandler and Ben Stiller. This is a big deal for Netflix as well as any movies that go straight to streaming services, considering how prestigious the Cannes Film Festival is—yet its inclusion infuriated the Federation of French Cinemas, which argued that Netflix was ruining cinema (how French!).
The controversy first stemmed from the fact that the rules of Cannes have not caught up to the way movies are released on a service like Netflix; mainly, that they aren't released in theaters. Additionally, due to a French "Media Chronology Law," a movie can't be shown on a streaming service for three years after it's left theaters.
Cannes said they would keep the Netflix movies in competition and Netflix sought a compromise, which was to release the movies in French theaters. But then the French Film Board rejected that idea and Cannes decided to ban streaming-only movies from future competitions starting in 2018. It's worth noting that Amazon, which acquired Manchester by the Sea, is choosing to release their most high-profile movies in theaters before throwing it up on the site.
And just when you thought Netflix couldn't be beaten down anymore, on Wednesday the Spanish director Pedro Almodovar, who is leading the competition jury, said in a statement, "I personally cannot conceive of not only the Palme d'Or, but any other prize, being given to a film and then being unable to see this film on a large screen."
There are several reasons directors seem to be worried by the idea that a streaming-only movie could be allowed to compete at Cannes. The first is the notion that streaming-only movies might hurt theater releases. Yes, the idea of a future in which people only watch movies at home is unsettling because of how it hurts theater owners and studios. Dine-in movie theaters are on the rise across America as oneway to compete with the cheaper, easier option of watching a movie at home. But I'm not sure how excluding the work of directors who deserve to compete at Cannes, like Baumbach and Joon-ho, solidifies the future of movie theaters.
G/O Media may get a commission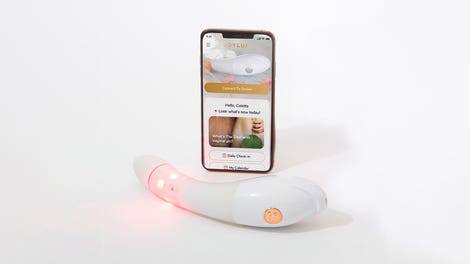 $50 Off
Joylux vFit Gold Device
What seems to be lurking under Almodovar's comments is the common sentiment among directors that movies are to be experienced in theaters. "The size of the screen should not be smaller than the chair you're sitting in. It should not be part of your everyday setting," Almodovar says. David Lynch famously hates the idea that anyone would watch a movie on their iPhone. Woody Allen thinks it's sad you would watch a movie on your computer. But that way of thinking is just laughably behind how people watch movies. Not to mention the fact that my average theater-going experience at New York City's Union Square movie theater, where people talk the whole time and throw popcorn at the screen, might actually make my movie-going experience worse than watching the same movie in my dark apartment with my Apple TV. Sorry Pedro, maybe American theaters are just different than European ones!
As well, the suggestion that the best movies screen in theaters and not on streaming-services is detrimental to young filmmakers who are finding outlets for their work at places like Netflix. The service is set to premiere a movie by Jessica Williams that they acquired at Sundance, but that film isn't worthy of competing at Cannes because, to France's disgust, someone might watch it on an iPad. Oh, quelle horreur!
The Federation of French Cinemas and Almodovar hinge their displeasure with Netflix on the idea that not everyone can see these movies if they are not released in theaters. But I'd argue that more people will have access to these movies, especially those who don't have an art house movie theater in their backyard. I'm not surprised Cannes didn't change their rules; it's Netflix that is outside the norm. But I am surprised these comments are being framed as protecting some sort of holy movie-going experience that frankly not everyone has access to.