Jacob, a Canadian retailer that specializes in clothing for women and girls, has announced that it has adopted a "no retouching policy" for all of its advertising campaigns from this point forward.


Here's the official company statement on the new policy:
With the launch of its new fall campaign, JACOB has committed to no longer digitally alter the bodies of its models in images for both its JACOB and JACOB Lingerie brands. The Quebec-based company, which has always felt strongly about women's issues and respecting its customers, decided it was time to take a stand on retouching.

"As a socially responsible company, JACOB has always made an effort to promote a healthy image of the female body. By adopting an official policy and broadcasting it publicly, we hope to reverse the trend in digital photo manipulation that has become excessive in our industry," says spokesperson and Communications Director Cristelle Basmaji. "Our decision to never reshape the bodies of our models is particularly innovative for our JACOB Lingerie campaigns." The basis of the new "no retouching" policy is to promote an honest and realistic image of the female body. However, JACOB is not against all forms of touch-ups. Certain digital enhancements cannot be avoided in order to produce an image the size that is required for advertising.

In all transparency, JACOB will continue to retouch its photos in some regards, as there will always be a need to calibrate colours for better product representation and to even out skin tone or erase tattoos and scars. Images from the first campaign under the new "no retouching" policy now grace the windows of all JACOB and JACOB Lingerie stores across Canada. Included are three different versions of one of our campaign photos: the raw image, the photo as seen in our advertising campaign and one that has been retouched as we would have in the past. Can you see the difference?
As the official company statement on the "no retouching policy" notes, the company isn't completely banning digitally altered photographs, with alterations being made "to calibrate colours for better product representation and to even out skin tone or erase tattoos and scars." While it would be nice to have a company embrace tattoos, uneven skin tone, and scars (you know, "imperfections," aka "shit everyone has in real life but are made to feel insecure about because said things are airbrushed away in mass marketed images of beauty"), but it's hard to fault the company's transparency and willingness to present a picture of a woman wherein her arm hasn't been seemingly snapped in two just to help sell a dress.
G/O Media may get a commission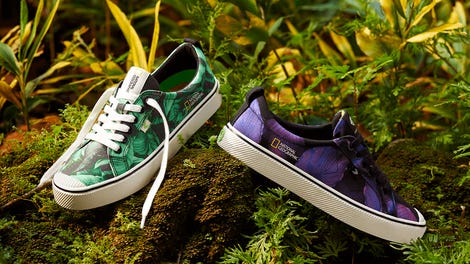 New New New
Cariuma + National Geographic
It's also interesting that the company's first foray into the "no retouching" world will be a campaign designed to invite and challenge shoppers to face the differences between the unaltered and altered photographs, giving them an open and honest look at the manipulation that often goes into making a "perfect" image. It's an exciting and admirable development, and in light of the various (relatively insane) images we've seen pop-up on retailers sites lately, it's a bit of a relief. Let's hope that other retailers follow their lead and recognize that honesty just might be the best policy.