A Quebec man has filed a class action lawsuit against Sunwing Airlines for promising him a glass of champagne during his flight to Cuba, and instead trying to feed him a low-rent splash of sparkling wine. Disgusting!

Champagne, as you know, is only champagne when it's made from grapes grown in the Champagne region of France, in addition to raft of other requirements. Sparkling wine is just fizzy wine. Champagne is always sparkling wine; sparkling wine is not necessarily champagne. But you knew that. Passenger Daniel Macduff knew that. Sunwing probably knew that, too, but decided they'd pull one over on their passengers by promising them high-quality champagne and then sneakily pouring them a big ol' glass of effervescing plonk. They've probably gotten away with it for ages, and they might have gotten away with it forever, had Macduff never boarded. But he did.
According to the National Post, Macduff booked a vacation to Cuba's Cayo Coco in November of last year in part because of a promotion from the airline offering "service au champagne." But when he boarded the plane, Macduff was greeted not with a beverage that adheres to a lengthy set of strict rules, but some tacky garbage probably fermented in the trunk of a 1993 Hyundai Sonata parked in Detroit.
Macduff's lawyer, Sebastien Paquette, said the suit has less to do with the differences between the beverages themselves than it does truthful advertising.
"You have to go beyond the pettiness of the (wine cost) per head," he said. "What's important is you're trying to lure consumers by marketing something, and you're not giving them that something…It's a dishonest practice."
G/O Media may get a commission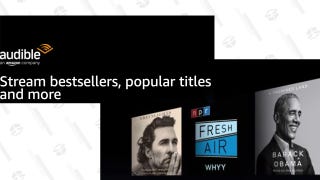 FREE
Audible Premium Plus 3-Month Free Trial
In a statement, Sunwing said the terms "champagne vacations" and "champagne service" were used to imply the type of service passengers could expect, not describe the beverage specifically.
"Sunwing has always been proud to invest in experience-enhancing features for our customers," it said. "We consider any legal action relating to the marketing of this service to be frivolous and without merit."
Around 1,600 others have signed on to the lawsuit since it was filed. Sunwing has since changed its marketing materials to say that passengers will receive "a welcome glass of sparkling wine."