The so-called "Canadian Rosa Parks" will be immortalized on Canadian currency in Canada's attempt to apologize for being really fucking racist way back when.

Viola Desmond, a black Canadian beautician and businesswoman, will be the first black person on Canadian money and the first woman to appear on the currency solo and who isn't a member of the British royal family.
The $10 note with her likeness was unveiled on March 8, International Women's Day, with the help of Wanda Robson, the late Desmond's sister.
In 1946, Desmond's car broke down in New Glasgow, Nova Scotia. She was told that the repair would take a few hours, so to kill the time she hit up a nearby movie theater. She requested a ticket on the main floor; she was near-sighted and wanted to be able to see the screen. Unbeknownst to her, those seats were reserved for white patrons and she received a balcony ticket instead, the area where non-white people were unofficially relegated. Desmond tried to take a seat in the white section of the theater, but she was turned away by an usher who informed her that she was holding balcony tickets. Thinking this was a mistake, Desmond returned to the box office and asked for a seat on the main floor, but the cashier informed her that he wasn't allowed to give a floor seat to "you people."
G/O Media may get a commission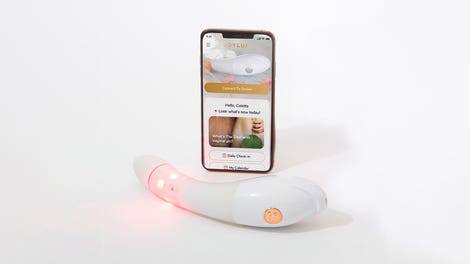 $50 Off
Joylux vFit Gold Device
As a massive "fuck you," Desmond again attempted to sit in the white-only section of the theater. But it wasn't long before the theater's manager called the police, who proceeded to drag Desmond to jail, injuring her in the process.
Racial segregation wasn't enforced by law in Nova Scotia, but the Canadian authorities tried to throw the book at Desmond however they could, likely in an attempt to remind her of her place. Their solution: charge Desmond for tax evasion.
From Nova Scotia Museum Publications:
The next day Desmond was taken to the local courthouse where she was charged by the white New Glasgow magistrate with tax evasion, for failure to pay a one-cent amusement tax (the difference in tax between balcony and main seating tickets) under the Theatres, Cinematographs and Amusements Act.

...

Racial discrimination against Desmond continued in the court. There she was the only non-white person present throughout her trial, no Crown attorney was present, and she was not advised of her right to counsel or that she could seek an adjournment to prepare her defense. Her efforts to explain her case were dismissed, and she was convicted and fined twenty dollars plus six dollars costs – a substantial sum for the 1940s.
The local black community of Nova Scotia rallied behind her, along with the Nova Scotia Association for the Advancement of Colored People. Though unsuccessful in their attempt to support Desmond through the appeal process, they launched several campaigns against workplace discrimination in their province.
In 2010, Canada granted Desmond a posthumous apology and pardon for her arrest and conviction. And now, they're throwin' her face on some money.
It's easy to be cynical about all of this—I mean, it's money, money sucks, banks suck, etc—but here's a touching video of Desmond's sister seeing the bill for the first time that might make you change your tune for a few minutes:
One big question remains, however: How did Canada end up apologizing for racism by putting a black woman on their currency before the United States did? Consider us ethered.