Whenever I see a kid pop up in a film or TV show I'm watching, I'm usually like, "Whoa, kid, get off my screen." Because most children are terrible actors. They don't understand the craft.
Thankfully, today's child actors on shows like Blackish and Modern Family are not only adorable but even tolerable. They're talented, articulate, not at all obnoxious and seem like they'll turn out to be well-adjusted adults, unlike the kid stars of yore (although who can know).
A few of these little actors participated in a roundtable with Vulture about what it's like being tiny and famous on TV right now: the kids from Fresh Off the Boat (Hudson Yang, Forrest Wheeler and Ian Chen), my favorite Black-ish duo (Miles Brown and Marsai Martin), Modern Family's Aubrey Anderson-Emmons and Dr. Ken's Albert Tsai.
When asked about their first acting jobs, Hudson recalls a role in the indie film Sisterhood of Night at age 9—"I didn't have to do much. I was the younger brother of the daughter who was in this cult," he says. "So basically I had three lines, said those three lines, got out, never seen 'em again." Albert names Trophy Wife and says, simply, "It was awesome how they all made the TV show happen."

Aubrey says her mom fed her lines when she joined Modern Family at 4 years old "because I didn't know how to read yet."
G/O Media may get a commission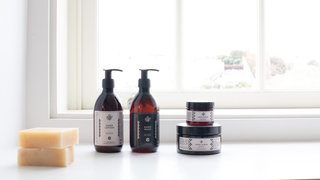 Exfoliate and Hydrate
The Handmade Soap Company
And Marsai, my mini-me Diane on Black-ish, says, "My first acting job was a public service announcement about being a little lady. You know, like bullying and being strong and powerful. I had just turned 5."
Ugh.
On what they love about acting:
Marsai: You get to work with such awesome people. When I worked on Black-ish, I was like, Am I working with Tracee Ellis Ross from Girlfriends? Wow! I'm working with Anthony Anderson from Kangaroo Jack? Whaaat? And some people I just love so much that I can't even take it. (Looks at Miles) I love you!

Albert: I love playing different characters. It's experiencing other people's lives, almost.

Hudson: The people you meet, the things you do, the people you play. When you act, it allows you to try new things and play with who you are.
On what they don't love about acting:
Marsai: I love acting. But I think we agree on this, too (looks at Miles) — I just don't like the fittings. They already know my size but they have to try it on. Like, every time.

Ian: I really don't like fittings, too, because when I first started Fresh Off the Boat, I had never worn buttoned-up T-shirts. And that's all I wear on the show. So it took like an hour and 30 minutes for me to do the whole fitting.

Aubrey: Um, I hate fittings as well! When I was 4, I had to try on this super-itchy Cinderella dress.

Hudson: You can see the anger fueling. Super. Itchy!

Miles: We have to try on the same clothes like every week. But also, another not-really-fun time is that I live about an hour and a half away from set.
The kids also talk about L.A. traffic like adult actors do, about learning their lines, single-cam versus multi-camera shows, and having to take pictures with people who don't actually watch their shows.
Most of them have acting or dialogue coaches on set.
Miles: Especially that episode where I had to keep saying that bad word.

Marsai: Oh, the N-word.

Miles: It was really uncomfortable, and every minute my parents and everybody kept asking me if I was comfortable and I was like, "Yeah, I'm comfortable but are you comfortable?" That's more the question. It was kind of weird. I had to ask my dialogue coach how to say bad words.

Aubrey: I was supposed to say the F-word when I was 4 years old.

Everybody: "Whoa!"

Aubrey: I know!

Hudson: Wait. Did your mom say it and then you said it back?

Aubrey: No, I said "fudge," not the F-word. I didn't even know what that word meant. So I asked my mom.

Albert: So did you actually say the F-word at the end?

Aubrey: No.

Forrest: So what happened, did someone else have to say it?

Aubrey: No, I just said fudge on the set.
Then Miles and Marsai talk about visiting the White House like it's no big deal:

Miles: Yes, we met the president and everything.

Albert: You met the president?

Miles: This is what happened. There were so many people there, way more people than last year. You know how that place is so big. And we were in such a rush. And there was this one other girl who said, "Could we take a picture?" And I said no! Somehow it didn't look like we were in a rush, but we were. But she took it so personal and she was all like, "But, please ..." I was like, Fine then, if you're gonna be so sad!

Marsai: Same thing with me. Remember when we were running with the First Lady? I had a cramp after and it was cold and I had to go to the bathroom. So this girl's like, Oh my God, I love you so much, you're the best person ever. She was almost tearing up, Can I take a picture with you? And I was like, Awwwwww. And that's all I said. And she just said, "It's okay," and walked away. And I was like, Doggoneit! So I took a picture. I felt bad.
Remember when we were running with the First Lady???
As you can see, none of these kids are white. "Hopefully, we can inspire other networks as well to have more ethnicity shows," says Forrest.
Hudson says later, "Our shows tackle topics that not many people want to mess around with. Like the C-word and the N-word and everything, they were all covered in our shows. But we make them more like jokes. We put them in a way that it's not actually offending someone."

The kids are alright, all right. Some of them may not continue down this path. Hudson wants to be a restaurateur, Miles wants to be "the richest person in the history of the world," and Ian would like to try his hand at becoming a pilot. "If I don't make it to being a pilot, I would be a cruise-ship captain," he says. "I like transportation a lot." God, stop.
---
Images via ABC