Nobody seems to know what is happening with this year's White House Easter Egg Roll. Are we looking at eggs decorated with gold foil stuffed with Benjamins and John Birch Society flyers, or should we expect something a tad more... chaotic?
The New York Times investigated the plans for one of the most visible public events held annually at the White House, and it does not sound like a well-oiled machine.
White House officials did not respond to several weeks' worth of inquiries about the Easter Egg Roll, typically a heavily and enthusiastically promoted affair, and declined to provide basic information such as how many people are expected to attend. It is unclear, for instance, whether Sean Spicer, the White House press secretary, will reprise his appearance in a bunny suit for the event, as he did a decade ago when George W. Bush was president and Mr. Spicer was an aide in the Office of the United States Trade Representative.
A refresher, in case you need it:

G/O Media may get a commission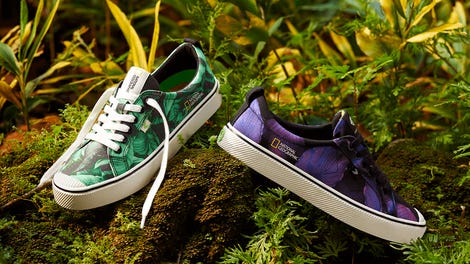 New New New
Cariuma + National Geographic
In fact, in late February, the traditional maker of the commemorative wooden eggs reached out to the President, First Lady, and Ivanka asking if we were doing this thing or not:
The good news is that the company has since started manufacturing eggs for the event. And the White House told the Times that, look, everything is fine.
"Plans for the Easter Egg Roll are well underway, and the White House looks forward to hosting it," said Stephanie Grisham, Mrs. Trump's communications director, installed only a few weeks ago. She said it was "just not accurate" to suggest that the event had been scaled back from past years, but would not provide figures for the size of the event or information about the program.
Is it fine, though?
The evidence points to a quickly thrown-together affair that people close to the planning said would probably draw about 20,000 people — substantially smaller than last year's Easter Egg Roll, which drew 37,000 — and be staffed by 200 volunteers, one-fifth of the usual number. These people spoke on the condition of anonymity because they were not authorized to describe the plans for the Easter Egg Roll, which are still evolving just a week before the event.
Reps from nearby public schools said they hadn't heard from the White House offering their customary tickets; ditto groups for military families, according to the Times.
This is—of course—perhaps the single least important task on the Trump White House's to-do list, far beneath "get a fucking grip" and "convince the President that Twitter no longer exists." However, if this is a disaster that leaves crying children scattered about the White House lawn, it'll sure make a convenient metaphor.