Of all the people whose tell-all books I'd be fascinated to read, Huma Abedin, former Hillary Clinton aide and perplexingly loyal wife to unctuous perv-dad Anthony Weiner, is firmly settled right there at the top of the list. The Hollywood Reporter claims she's been meeting with literary agents and is seeking around $2 million to seal the deal. Fine! Whatever! $2 million? Pocket change! Give the woman what she wants!

According to THR, the newly single (maybe?!) Abedin envisions the potential book "as a reflection on how her personal and professional lives collided during the campaign." Indeed. You may recall how Weiner's indefatigable penis entangled itself in the presidential election, his penchant for sexting with minors suddenly linked to the FBI investigation into Hillary's email practices just two weeks before the country was set to vote. I'm not saying Anthony Weiner's nethers are entirely responsible for the fall of modern democracy, but...they sure as shit didn't help.
What's done is done, apparently, but I still sometimes lie awake at night pondering the central question I'd expect this book to answer: Huma, what were you thinking? Your husband's inability to keep his junk out of sight cost him a shot at the mayorship of New York City, and that's his business. But when it imperiled the most important election of our lifetimes because he was caught sending gross messages to a 15-year-old girl? That's a problem.
Compounding the interest in Abedin is that she hasn't given interviews since the election. She was, however, featured heavily in the gripping 2016 documentary Weiner, in which filmmakers Elyse Steinberg and Josh Kriegman were allowed unfettered access to the couple even as a new wave of scandal broke. Where Weiner joked and blustered throughout the film, Abedin exuded an air of tortured resignation. Exhibit A:
If she seemed at the end of her rope in Weiner, it's hard not to wonder what's going through her mind now. Abedin separated from Weiner in August of 2016, in the thick of the campaign, but by then it was too late. Weiner's wiener was irrevocably yoked to Hillary Clinton, Almost President, and we'll never know how much that ended up hurting her in the end.
G/O Media may get a commission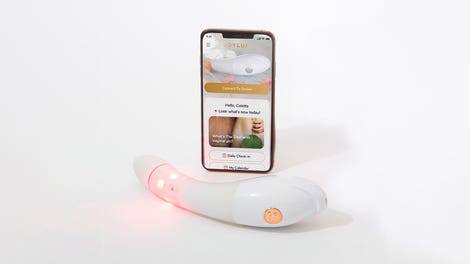 $50 Off
Joylux vFit Gold Device
Ultimately, interest in the book will entirely depend on Abedin's willingness to be open. As one publisher told THR:
"This will be an interesting sale to see who wants to know what [Weiner] said to her each time he was caught. If she reveals a lot, it turns your stomach. If she doesn't, she puts the publisher in a bad place."
If you're going to do this, Huma, do it right. You owe us that much.