The most interesting thing about the fashion stories revolving around Michelle Obama is how they're not really about fashion.
A New York Times piecepublished today ostensibly burdens the soon-to-be First Lady with saving the fashion industry. Vogue editor (and Jacqueline Kennedy expert) Hamish Bowles says of Michelle Obama's fashion impact: "My perception is that she's already had an extremely potent effect" on the business. After Mrs. Obama wore that $148 dress from White House Black Market on The View, a shopping frenzy ensued. But unlike many First Ladies, who reeked of old money Country Club couture, Michelle Obama has a more (ahem) democratic approach. She's not so much about fashion as she is about style.
Stephanie Solomon, the fashion director of Bloomingdale's, tells the Times:


"Mrs. Obama is, first of all, very elegant and has wonderful taste. But she also recognizes the value of beautiful dresses and not big prices. She dresses like taste doesn't necessarily have to do with brand or status, but with what looks well on your body and makes you look glamorous, bottom line. [That is] very refreshing and appropriate for this period."
It's refreshing and appropriate, period. While many fashion magazines insist on pushing a look by outfitting models in one designer from head to toe, most of us mix and match, with catalog brands like Mrs. Obama's fave, J. Crew, and knockoffs of more expensive labels. Because America's bling-bling, logo-conscious designer-worship days are behind us. And some of us never really could get on board, anyway. But it seems right that the woman representing our country would have a down-to-earth approach to getting dressed, and be able to prove that looking great is not about how much money you spend.
Meanwhile: White House Black Market is celebrating Mrs. Obama's move to Washington by converting its Union Station store into an "inaugural dress headquarters." And menswear label Hart Schaffner Marx is debuting the Capitol Collection, inspired by the suits, trousers and sport coats it made for the President-Elect. But can Michelle Obama can "save" American fashion? Steven Kolb, the executive director of the Council of Fashion Designers of America, who admits that the business needs help, says no:

"The way Michelle Obama dresses is not her stimulus package to the fashion industry," said Mr. Kolb. "It's how she is. I think about my sister who lives in New Jersey and is a teacher, and about the women she works with, and how they can look at Michelle Obama and not have to pretend to be that woman, that working mother with kids who knows the big designer names but also shops at J. Crew and the Gap. She's who they are."
G/O Media may get a commission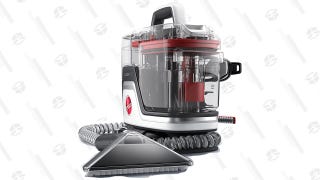 Save $10
Hoover CleanSlate Plus Carpet & Upholstery Cleaner
U.S. Fashion's One-Woman Bailout? [NY Times]
White House|Black Market Fetes Obama's Inauguration, Hart Schaffner to Launch Capitol Collection [WWD]