Dan and Annie Shannon are offering a "humane alternative" to Julie & Julia — by "veganizing every recipe in The Betty Crocker Cookbook." The results — despite lack of meat, eggs, and dairy — look pretty delicious.
Annie Shannon writes that upon seeing the lobster-cooking scene in Julie & Julia (and picking up Cleaving, all about Julie Powell's love of meat), she decided, "THERE NEEDS TO BE A HUMANE ALTERNATIVE TO LOBSTER KILLER" [bold, italics, caps all hers]. So she and her husband decided to cook their way through the Betty Crocker Cookbook and blog about it, showing that "no one in the world loves food the way a vegan does."
I'm not a vegan — I'm not even a real vegetarian anymore — but I've eaten and cooked vegan food enough to develop a few theories about it that may differ slightly from those of the average meat-eater. First, I've found that vegan baked goods are often delicious, but making them can require specialty ingredients. The Shannons' vegan version of Betty Crocker's cream cheese brownie pie, for instance, looks gooey and tasty, but calls for vegan cream cheese, Ener-G Egg Replacer, and agave nectar — none of which is necessarily a staple of the omnivore's kitchen. Once you've laid them in, though, you could probably make a bunch of the Shannons' other cruelty-free desserts. And if you cook vegan food frequently enough, agave nectar probably comes to seem like a normal part of your shopping list, not a specialty at all.
G/O Media may get a commission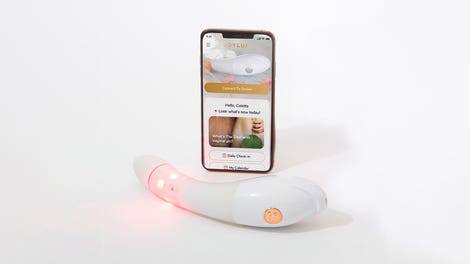 $50 Off
Joylux vFit Gold Device
What's really stopping my full endorsement of the Betty Crocker Project, however, is this: vegan cheese fucking sucks. I hate it in a burrito, I hate it on macaroni. I hate it in a boat, I hate it with a goat. I really, really, really hate it. I'm not one to criticize vegans for eating imitations of non-vegan food (often people who do this are meat-eaters looking for a way to hate on veganism). I am, however, deeply skeptical about vegan quesadillas — and, by extension, about a project whose goal is to veganize all recipes in a decidedly non-vegan cookbook. I'd love to be proved wrong, though — maybe vegan cheese has gotten better during my time outside its rubbery embrace. If enough vegans chime in with recommendations (the Shannons use a brand called Daiya), I may try making vegan-dillas myself.
Image via Meet the Shannons.