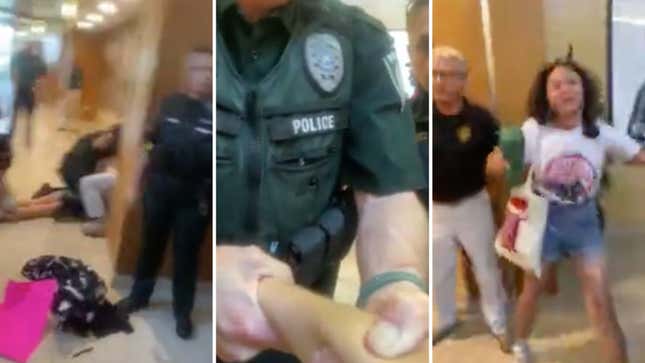 This week, a student protest led by Students for a Democratic Society (SDS) at the University of South Florida devolved into a tussle after campus police intervened, with videos showing four protestors—three of them students—being arrested. Not unlike the scores of other recent demonstrations at colleges across the state, Lauren Pineiro, a representative from the group, told Jezebel via phone call that the students were protesting Governor Ron DeSantis' attempts to ban diversity and inclusion initiatives in schools outside of the office of Rhea Law, the university's president.

"We were only in there [the building wherein Law's office is located] for maybe two minutes before the Chief of Police, Chris Daniels, approached us and was immediately violent, Pineiro told Jezebel. "Everything just kind of evolved from there."
The group's demands were simple, Piniero explained. First, they wanted the university to continue its search for a Vice President of Diversity, Equity and Inclusion (DEI)—an effort that was halted in the wake of DeSantis' January announcement that he would defund Critical Race Theory (CRT) and DEI initiatives and push legislation to prohibit state schools from supporting diversity, equity, and inclusion programs. Then, the group asked that the university reinstate the DEI committee in the College of Arts and Sciences. (All six members of the committee resigned in 2020 after claiming they were being ignored by the administration.) Lastly, the students demanded the administration release a public statement outlining its commitment to protect diversity, equity, and inclusion programs and to condemn DeSantis' attacks.
"Black enrollment is declining, and is actually the lowest it's ever been in the last 14 years, at 9.1 percent," Pineiro added, noting that it's a central concern for the group. Records listed on the university's website confirm the population has dwindled from 12 percent in the 2008-2009 school year, to 9.5 percent in 2021-2022, the last recorded school year. (Representatives from the university did not provide comment, instead directing Jezebel's request to campus police.)
According to Pineiro, the protest began in the Marshall Student Center, where speeches took place. Then, the students (reportedly 25) marched to the Patel Center for Global Solutions, where Law's office is located, for a "peaceful sit-in."
Videos posted to social media appear to show officers assaulting protestors after they refused to leave the building until Law agreed to meet with them. Though campus police told ABC Action News that the students were the aggressors as they refused to leave the building after being instructed by officers, Pineiro begs to differ.
"It's just kind of surprising that they met us with such force right from the beginning," Pineiro told Jezebel. "We didn't really have a chance to leave and we tried to de-escalate."
"They put their hands on most of the people there—especially the women and trans people who were present," she added.
Posts on the SDS Instagram page say the protestors were "brutalized" by campus police for speaking out. When contacted for comment, Michael Lavelle, a representative for the campus police department, told Jezebel via email: "One officer was pushed to the ground and suffered minor injuries, while other officers were also shoved by protestors. Protestors hit police with objects, including what officers believe was a video camera and a water bottle, and threw an unidentified liquid at officers."
Ultimately, arrests were made. Among those detained were Gia Davila, a 21-year-old USF student; Laura Rodriguez, a 23-year-old USF alumna; Jeanie Kida, a 26-year-old USF student; and Chrisley Carpio, a 31-year-old USF employee. The four have since been released on bail, but currently face charges of assault or battery of law enforcement officers. Pineiro said it's the group's hope that the university will drop the charges.
This protest is one of many in the last six months in direct response to DeSantis' culture wars. For several weeks, students at New College, a liberal arts college in Sarasota, have railed against the governor since he appointed six conservative members to the university's board of trustees. Last month, students from the University of Florida, Florida State University, and the University of North Florida walked out of classes in protest of DeSantis' audit of DEI initiatives.
"We are also going to eliminate all DEI and CRT bureaucracies in the state of Florida. No funding. And that will wither on the vine," DeSantis said in January.
Meanwhile, Pineiro asserted the SDS will continue to push for their demands to be addressed: "We're allowed to protest, especially in a school that we pay money to attend, so we really just want the school to stand with us in solidarity."