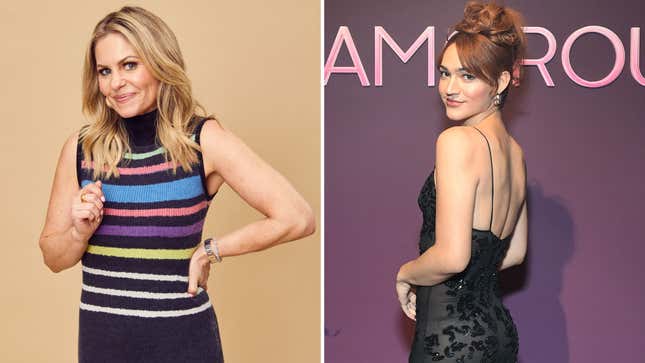 They say three things are certain in this lifetime: death, taxes, and Candace Cameron Bure feuding with a queer woman over 20 years her junior.
Gizelle Bryant, Robyn Dixon on Which Potomac Housewife Had the Hardest Season
Yesterday, actor Miss Benny answered a question on TikTok about her experience in 2018 as the first openly gay character on Fuller House, the sequel to the hit nineties sitcom Full House. "Fuller House? who was homophobic was it Candace," the question card read.
Without explicitly naming Bure, Miss Benny explained:
"One of the Tanner sisters is, like, very publicly not for the girls, if that makes sense. I remember I got sat down by the writers and the studio to basically warn me how this person allegedly was trying to get the character removed and not have a queer character on the show. I was also sort of warned and prepared that this person's fan base might be encouraged to target me specifically."
She expanded on her surprise and disappointment that young queer performers are continually "being targeted and have to advocate for themselves against adults." Despite never talking to Bure on set, she claimed she did talk to one of the Tanner sisters and had "a really fun time actually shooting the show with all the other actors who were willing to talk to me."
Obviously hoping that ACAB actor and abortion rights advocate Jodie Sweetin, aka Stephanie Tanner, was the one who was kind and welcoming to Miss Benny.
Bure didn't waste time responding, refuting Miss Benny's account to People late last night.
"I never asked Miss Benny's character to be removed from Fuller House and did not ask the writers, producers or studio executives to not have queer characters on the show. Fuller House has always welcomed a wide range of characters. I thought Miss Benny did a great job as 'Casey' on the show. We didn't share any scenes together, so we didn't get a chance to talk much while filming on set. I wish Miss Benny only the best."
True or not, Bure has a reputation that precedes her. You might remember that a year ago, JoJo Siwa accused her of being the "rudest" celeb she's ever met. That feud somehow extended from July into November, with Siwa dissing Bure taking a job as the Chief Content Officer at GAC, a faith-based channel positioning itself against the raunchy, sinful drivel put out at Hallmark.
"Honestly, I can't believe after everything that went down just a few months ago, that she would not only create a movie with intention of excluding LGBTQIA+, but then also talk about it in the press," Siwa wrote on Instagram. Oh, I can! Easily!
Hoping a small army of Bure's young queer enemies form to film a holiday special for Hallmark.
---