A company called Ambrosia Labs has been touting itself as the first group to import human breast milk to the U.S. from overseas, mainly from Cambodia. A lack of oversight has led the Cambodian Ministry of Health to shut it down without warning.
On March 14, Broadly published a report on the operations of Ambrosia Labs, exposing the fact that the company employed around 50 mothers who were paid 64 cents for each ounce of breast milk, generally each producing enough to make about $7 a day. Ambrosia Labs charges its U.S. customers $200 for a "Ten Pack" of five-ounce frozen milk packets. The Utah-based company was founded by Bronzson Woods and Ryan Newell, after Woods came up with the idea while on his Mormon Missionary trip in the country:
Woods discovered that demand for human milk was high, but supply was pinched. Breast milk is only available commercially through milk banks or on a growing online market, which remains unregulated.

American women aren't incentivized to donate their milk, Woods says. "That's where we thought we could kind of fit in," he explains. He also references the country's high rates of breastfeeding: "Cambodia's in a sort of developmental sweet spot, right?"
France 24 reports that the Ambrosia Labs offices in the Cambodian suburb of Stung Meanchey were closed on Monday, and it was confirmed that customs officials have halted exports:
"We have asked them (the company) to contact the Ministry of Health because the product comes from a human organ, so it needs permission from the Ministry of Health but they did not get it yet," Kun Nhem, General Director of Customs and Excise, told AFP.

He said government officials were planning to meet soon to "determine a policy about the product because it is a bit sensitive".
G/O Media may get a commission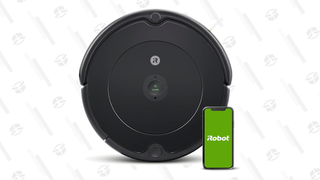 35% Off Black Friday Deal
iRobot Roomba 694 Robot Vacuum
While the company's detractors have criticized the way they appear to be taking advantage of a vulnerable population, France 24 spoke with several women who are distraught by the sudden loss of income. A woman named Chea Sam told them she has been selling her breastmilk since the birth of of her son.
"I am poor, and selling breast milk helped me a lot," she said, adding, "We all cried when the company informed us about the suspension. We want it to be in business."