Just as there was once a time when Taylor Swift did not release Katy Perry diss tracks that featured Kendrick Lamar, there was once a time when her boyfriend Calvin Harris did not show off his padded bulge in ads for expensive Italian underwear. But things change, and people get waxed. With the release of his second underwear campaign for Emporio Armani, Calvin Harris is now a bona fide sex symbol. And I bet it makes for interesting conversations between the happy couple!
Picture it.
She comes home from a long night of taking posing for photos onstage with her friends, and there's Calvin. On the couch. Wearing nothing but his favorite pair of black Emporio Armani briefs. Though he misses the substantial padding and smoothing provided by Armani's stylists, he wears them confidently.
"Hello," Calvin says as Taylor walks in.
"Well hey! Look at you!" she responds. "I thought you'd be asleep by now."
"I was waiting for you to come home."

"Why?"
"Isn't it obvious?"
It takes a few moments, but Taylor eventually understands what he meant. "It was sweet of you to wait up, but I'm tired. Some of us have jobs?" she says while pouring herself a glass of water.
G/O Media may get a commission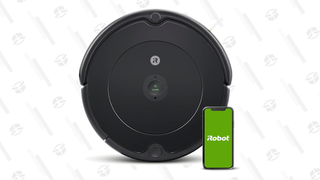 35% Off Black Friday Deal
iRobot Roomba 694 Robot Vacuum
"I have a job."
Taylor sits beside him on the couch and attempts to wrap his arm around her for a snuggle. "You know what I meant."
Calvin resists and stands up. "Yeah. I think I know exactly what you meant." He quickly, almost violently, begins putting his clothes back on. "I'm going back to my place."
As he opens the front door, Taylor lets out one final plea from the living room. "No wait! We can still make whoopee!"

Calvin turns, suddenly more disappointed than upset, and takes a breath. "I don't think we'll be making whoopee for a while, Tay. I don't think we'll be making whoopee for a long while."
---
Contact the author at bobby@jezebel.com.
Image via Armani.