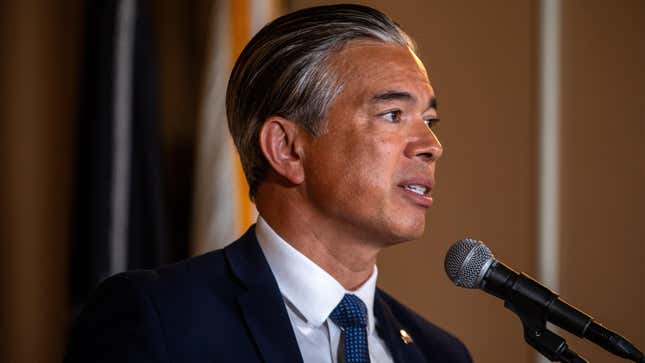 The California attorney general's office filed a lawsuit on Monday against the Southern California-based Chino school district over a policy that requires parental notification if their kids change their gender identity. The lawsuit characterizes this policy, which the school board voted to enact last month, as a violation of both civil rights and privacy laws. Per the suit, the parental notification policy puts trans and gender-nonconforming students in "danger of imminent, irreparable harm" by "outing" them at home before they may be ready—even as fewer than one in three trans and nonbinary youths report being accepted by their families.

"[T]he district's policy will force [trans and nonbinary students] to make a choice: either 'walk back' their constitutionally and statutorily protected rights to gender identity and gender expression, or face the risk of emotional, physical and psychological harm from non-affirming or unaccepting parents or guardians," the lawsuit states. Through the suit, California Attorney General Rob Bonta (D) is asking the San Bernardino County Superior Court to immediately halt the policy.
"I refuse to stand by and allow Chino Valley or any district board of education to put our children at risk or infringe upon their rights, especially not one of our most vulnerable at-risk groups," Bonta said at a news conference on Monday. "Across the country and in our own backyard, the LGBTQ+ community is under attack, and transgender and gender-nonconforming students are on the front lines."
Chino Valley Unified's policy requires schools in the district to alert parents if their child requests to be "identified or treated" as a gender other than the "biological sex" on their birth certificate, listing examples like student requests to go by different names and pronouns or requests to use different bathrooms and join different sports teams. Similar policies have been proposed in at least two other school districts in more conservative parts of Southern California. And across the country, states including Iowa, Indiana, and North Carolina have passed laws to require schools to notify or seek parental approval when kids adopt nicknames—even if, for example, a child named Joseph now wants to go by "Joe"—in a blatant move to target trans kids.
The Chino Valley Unified policy comes as anti-trans "parental rights" activists and Republican lawmakers across the state are advocating for a proposed 2024 ballot initiative that would essentially make Chino Valley Unified's parental notification policy into a statewide policy governing all schools. A report from 2022 found 49,000 Californians between 13 and 17 identify as trans, comprising 1.9% of the age group—compared to 1.4% of the total age group across the U.S.
In response to the lawsuit, Chino Valley Unified has thrown up the usual bogus talking points. School board president Sonja Shaw told the Los Angeles Times that Gov. Gavin Newsom (D), Bonta, and Supt. of Public Instruction Tony Thurmond are a "political cartel" imposing "perversion" on children through their support for common-sense policies to protect and support queer youth.
Chino Valley Unified spokesperson Andi Johnston claimed to the Times that the district's policy also calls for teachers and school staff to notify child protective services or police if a student "believes they are in danger" or has been harmed by family members because of their gender identity. But this supposed "solution" is laughable considering schools could protect LGBTQ kids from being harmed or endangered at home in the first place by simply not outing them. According to the Trevor Project, more than half of trans and nonbinary people between 13 and 25 have "seriously considered" suicide, and about one in five have attempted it.
At Monday's news conference, referring to the school board members who support the policy, Bonta said, "They have taken great pains to go out of their way, despite our warnings of the illegality of this action beforehand, to trample the rights of students, to trample the rights of children."