A California couple has been arrested after authorities discovered that they'd allegedly kept 13 people—reportedly their children—trapped inside their home in squalid surroundings, shackled to beds with padlocks.

While details of the horrifying situation are still unspooling, the Los Angeles Times reports that David Allen Turpin and Louise Anna Turpin were arrested on suspicion of torture and child abuse based on the shocking scene police encountered upon arriving at their Perris home on Sunday. From the Times:
The nightmarish discovery came Sunday after one of the children, a 17-year-old girl, escaped from the house in the 100 block of Muir Woods Road and called 911 on a cellphone she found in the home, according to an account released by Perris police.

When officers from Perris and deputies from the Riverside County Sheriff's Department met the girl, she appeared to be about 10 years old and emaciated, police said.

Inside the house, officers found "several children shackled to their beds with chains and padlocks in dark and foul-smelling surroundings," the statement said. The youngest was 2 years old. Like their sister, the 12 siblings in the house appeared to police to be minors and malnourished, but authorities determined seven of them were in fact adults from the ages of 18 to 29, police said.
In a statement, the Riverside County Sheriff's Office said that "The parents were unable to immediately provide a logical reason why their children were restrained in that manner."
All 13 victims were hospitalized, though their conditions have not been released. The Turpins are each being held on $9 million bail.
G/O Media may get a commission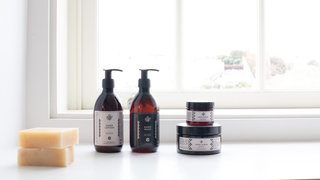 Exfoliate and Hydrate
The Handmade Soap Company
Records show that David Allen Turpin had received state approval to operate a private school out of his home, with six students in grades six through 12 enrolled as of this year. He is listed as the principal.
Neighbors said that they knew there were children in the Turpin family, but that they weren't sure how many since "the kids didn't come out very often."