As the world around us burns like one massive tire fire, please allow me to share one piece of hopeful news: A state senator in California, taking a shit all over Donald Trump's racist immigration agenda, has drafted a bill that would offer health insurance coverage for all undocumented immigrants in the state.

Politico reports that State Sen. Ricardo Lara seeks to "extend Medicaid coverage to all adults." The state currently offers health coverage to all children regardless of immigration status, and Lara's bill would build on that. According to Politico, about 60 percent of California's 3 million uninsured are undocumented immigrants.
Since Congress does not seem too keen on offering undocumented immigrants a pathway to citizenship, Lara's bill would at least give them a way to access better health care if they live in California. He also argues that regular, preventative care is would reduce the number of emergency room visits, and thus the overall cost of care.
From Politico:
But Lara, the son of undocumented Mexican immigrants who grew up without health coverage, contended the state is already paying for health care for the undocumented in the most expensive way possible, through hospital emergency rooms. He pushed unsuccessfully for a single payer health plan for California last year, and argues California needs to be a laboratory for social change by taking the lead on progressive causes.
"We are trying to address the fact that, whether you like it or not," he said, "our undocumented community needs the care, and we are paying for it anyway."
G/O Media may get a commission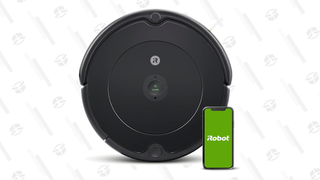 35% Off Black Friday Deal
iRobot Roomba 694 Robot Vacuum
Even in a blue state like California, the bill likely faces steep opposition from Republicans ahead of midterms elections. California Gov. Jerry Brown, serving his last term, has not announced any support for the plan.
However, as California searches for more ways to help protect immigrants, the Trump administration is tirelessly creating new, sick ways to punish them.