In an interview with Andy Cohen on his SiriusXM show (honestly how does this man find the time), Caitlyn Jenner revealed that she has not spoken to her stepdaughter Khloe Kardashian "in, like, two years."
"She doesn't wanna talk to me," Jenner said, adding:
"I was very very close to Khloé, I mean I had 23 years of raising her. I met Khloe when she was 5 years old.

[...]

Of course it hurts...She was on Howard Stern and called me a liar. And that kind of pissed me off too cause I never lied to her, you know, if I didn't tell her everything. First of all, she never asked."
While I don't doubt that tensions exist between Cait and Khlo, the whole "two years" thing is a clear exaggeration—specifically because they have appeared together in recent episodes of KUWTK (ones filmed after Kim's Paris robbery).
If anything, it suggests that they only speak when contractually obligated for storylines about how they're working through their non-relationship (or when seated in the same row at a fashion show, as they are in the photo above). Who the hell knows. I read Caitlyn's book early Tuesday morning and if she's as boring as she is IRL as she is in print, I wouldn't talk to her much either!
G/O Media may get a commission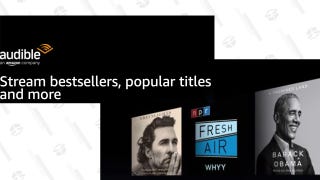 FREE
Audible Premium Plus 3-Month Free Trial
Speaking of that boring book, Kim Kardashian is mad about it. She went on Ellen this week to publicly discuss her robbery for the first time, and couldn't help but comment on the memoir that came and went like a Instagram story. She said:
"My heart breaks for my mom, you know, because I feel like she's been through so much and [Caitlyn] is promoting this book and she's saying all these things. I don't think it's necessary and I just feel like it's unfair, things aren't truthful."
There's not that much incendiary stuff in the book, and the only moments I imagine Kris could've had a problem with are the chapters in when Caitlyn claims to have revealed her gender dysphoria early on in their relationship. Almost everything else written about Kris is wildly respectful. Almost deifying.
This family simply will not allow themselves to be seen as free from drama. Even when what they say can be easily contradicted by the show that made them all famous. You know, the one that's still on the air.
---
Burn the witch!!!
---