Caitlyn Jenner is still a Republican, because economic privilege has a way of eclipsing everything else. In a new clip from an upcoming episode of I Am Cait, she aggressively, if a bit foggily, defends Donald Trump, while castigating Hillary Clinton. Benghazi is invoked.
Jenner hasn't been shy about her continued support for a political party that frequently casts trans people as amoral deviant sexual predators. She's said she wants to explain to the "very nice" Ted Cruz why he should stop being so virulently anti-trans, endorsing him even while acknowledging he's "one of the worst ones" on trans issues.
So perhaps the conversation she had with a group of friends, published today by E!, shouldn't be surprising.
"What do you think of Donald Trump?" Chandi Moore asks her.
"I'm not a big fan because I think of his macho attitude," Caitlyn responds. "I think he would have a hard time with women when he doesn't even realize it, and it doesn't mean he wouldn't be good for women's issues, I think he would be very good for women's issues."

G/O Media may get a commission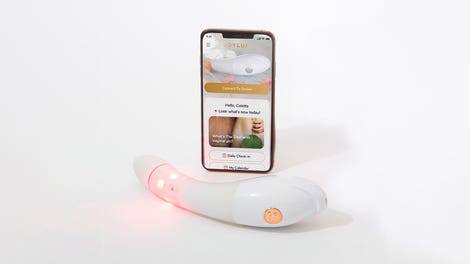 $50 Off
Joylux vFit Gold Device
There's a horrified silence from the room, followed by a resounding, "What?"
"Kill me now," says novelist Jennifer Finney Boylan, stoically. "Someone kill me now."
"I don't think he's out there to destroy women or take things away or do any of that kind of stuff," Jenner insists.
"I don't think my views have changed politically since transitioning," Jenner says, saying she's still primarily concerned about the economy. And also: "Just because I'm a woman now doesn't make me all of a sudden liberal."
Jenner also says she would "never, ever" vote for Clinton because if she becomes president, "the country is over." She demands to know what Clinton has ever done, and when she's provided with a partial list by the rest of the squad, is dissatisfied.
"She was a lousy Senator," Jenner says. "She was horrible. Look at all the things that are going on in the Middle East. All because of what she did. Look at Benghazi. She lied to us. She's a fucking liar."
Clinton was Secretary of State when the attacks in Benghazi took place, not a senator. Jenner also vaguely references "all of her emails" and calls Clinton "a political hack."
She's nothing if not consistent. Here's the full clip, via E!:
---
Contact the author at anna.merlan@jezebel.com.

Public PGP key
PGP fingerprint: 67B5 5767 9D6F 652E 8EFD 76F5 3CF0 DAF2 79E5 1FB6
Jenner pictured in July. Photo via AP Images