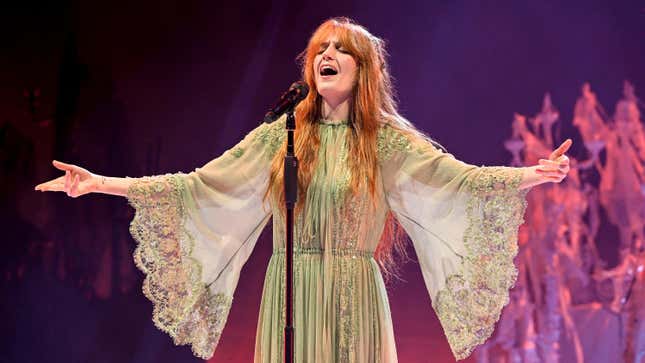 Just when I thought I couldn't get more excited for the sophomore season of the Showtime hit, Yellowjackets, the high priestess of songs for the hot and haunted has announced that she'll be a part of it.
Is Emmy Rossum Old Enough To Play Tom Holland's Mom?
On Monday, Florence Welch, frontwoman of Florence + the Machine, posted a cryptic video to Instagram and Twitter of herself slipping on a varsity jacket from a rack inside (I'm guessing) her dressing room—but not just any varsity jacket, folks. It's none other than the Yellowjackets varsity jacket worn by our favorite starved and stranded protagonists.

"So happy I got picked for the team this year," Welch captioned the video. More curious, however, is the music that accompanies it. On first listen, you might think it sounds like a more stirring, perhaps even sinister rendition of No Doubt's last good song, "Just A Girl." Well, good news: It is!
As reported, Florence + the Machine has covered the iconic ode to femme rage to be featured in the forthcoming season. Though few details regarding the band's relationship with the show beyond the track are known, the Yellowjackets Instagram account left a promising comment on Welch's post: "We make one hell of a team." I just got goosebumps.
It's fitting that, not only was Welch tapped to contribute to the series, but that this particular song was chosen. Last season, "Uninvited by Alanis Morisette—another patron saint of angst—was prominently featured in ads for the show.
Given that much of the show's action is set in the nineties, it just makes sense that its soundtrack compels one—even a semi-emotionally mature adult woman such as myself—to slam their door, blast the jam, and full-throatedly accuse the world of misunderstanding you.
Relieved to see that the creators still know their audience: Sad girls, sapphics, and savages.