New York City is considering a law that would criminalize the buying, and not just the manufacture and sale, of counterfeit luxury goods like fake handbags and watches. City Councilor Margaret Chin, whose district includes Chinatown, where many of the city's counterfeit goods are more or less openly sold, is sponsoring the legislation. Under the proposed law, buying a fake item could lead to a $1,000 fine and up to one year in prison. Chin, according to Women's Wear Daily, sees counterfeit goods as "as a quality of life issue to protect neighborhoods against being overtaken by criminal elements and people feeling unsafe on the streets."
Ana Gasteyer Satirizes the Girl Boss in 'American Auto'
Susan Scafidi, an intellectual property expert and the head of the Fashion Law Institute, welcomed the move. "The proposed law, by joining France and Italy in targeting the demand side of the sales equation, could change the calculus for some would-be customers," said Scafidi in a statement. "A $25 designer handbag can sound like a steal, but add in a $1,000 fine and the bargain becomes a bust. And while the adventure of buying a fake from an unmarked van or secret back room is an attraction for some tourists, no one wants to spend her vacation at the police station. Kudos to the councilwoman for trying once again to dredge Canal Street."
Before the bill can be voted on by the full City Council, it has to come up for a public hearing. Chin said she expected that to happen sometime in the next few months.
[WWD]
---
G/O Media may get a commission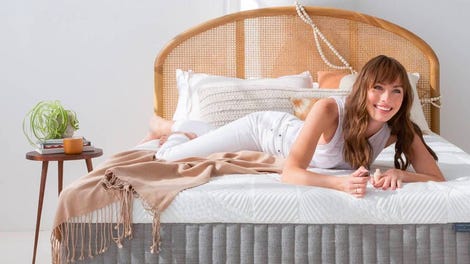 Sleep Sale
Sleep Sale - Brentwood Home
Taylor Swift appears without her usual Sharpie-style liquid liner on the new cover of Wonderland. [Wonderland]
---
Scarlett Johansson is on the cover of the new Marie Claire. She tells the magazine she's "obsessed" with RuPaul's Drag Race: "I love the makeup, I love the hair, I love the looks." [Daily Mail]
---
Marc Jacobs is launching a new perfume this August called Honey. [WWD]
---
• J.C. Penney C.E.O. Ron Johnson, whose plan to turn the retailer around has proved controversial and costly for the company, has been fired. He will be replaced with former company C.E.O. Mike Ullman III, whom Johnson himself replaced in November, 2011. Johnson's tenure at J.C. Penney included a number of bold moves — his vision was to transform the retailer into a store-of-stores selling many exclusive and semi-exclusive brands, including the recently launched Joe Fresh and the planned new designer-branded jewelry bar, while cutting prices permanently and reducing the frequency of "sales" (Penney's old strategy was to start with an artificially high price and then mark it down). Customers proved mostly resistant to these changes, particularly the new pricing strategy. Under Johnson's watch, Penney went from (barely) profitable in 2011 to losing nearly one billion dollars in 2012. Thousands of people were laid off. [CNBC, WWD]
• Meanwhile, the J.C. Penney/Macy's trial resumed. At issue is Penney's right to sell Martha Stewart-branded homewares when Stewart had an existing exclusive contract with Macy's. Johnson was the architect of the Penney's/Stewart deal. It is unknown how his departure will affect the trial. [WWD]
• On June 15 and 16, some of the ateliers owned by Louis Vuitton Moët Hennessy — including workrooms for Christian Dior couture, Louis Vuitton leather goods, and Guerlain cosmetics — will be opened to the public. LVMH experimented with holding public tours at a few of its facilities last year and is expanding the program for 2013. [WWD]
• Flaunt magazine is changing and renaming the Guantanamo-themed Coachella party that was so heavily criticized once the invitation hit the Internet. Meanwhile, even with a new theme, sponsor Smashbox Studios has withdrawn. [Daily Intel]
• Dutch model Kristel Van Valkenhoef enjoyed doing Rachel Zoe's fashion show this season. "The Rachel Zoe show was funny because there was so much going on. Apparently she has this whole TV presence?" [WWD]
• Many female tech entrepreneurs working on ideas that relate to fashion report difficulty convincing venture capitalists to invest in their start-ups because most V.C.'s are male, and they consign "fashion" to that category of mystifying, pink lady-things they are afraid to touch, because cooties. [Buzzfeed]
• The new owners of French department store Printemps — an unnamed group of Qatari investors — plan to expand the chain. [WWD]
• Bloomberg explains why H&M needs its new concept store, & Other Stories, to be successful. H&M's growth and its price-to-earnings ratio has lagged behind that of competitor Zara in recent years. [Bloomberg]
• Chado Ralph Rucci will from now on be known as just Ralph Rucci. [WWD]
• A judicial order has allowed Richemont to seize more than 2,700 domain names selling counterfeit products bearing the trademarks of Richemont-owned brands like Cartier. [WWD]