Burger King, the American fast food chain, has managed to offend King Philippe, the monarch of Belgium. Really.

You see, as Reuters reports, Burger King will soon expand its operations to Belgium and is promoting this move with a large ad campaign in the country. And they apparently decided it would be funny to riff on the country's monarchy:
The animated advert, noting that King Philippe was crowned in 2013, announces the brand's launch in Belgium this month and asks: "Two Kings. One crown. Who will rule? Vote now ... "

Anyone clicking to vote for the 57-year-old monarch then faces a series of questions such as: "Are you sure ... ? He won't cook you fries."
A fair point, however, one the royal family apparently does not appreciate. An actual, literal palace spokesperson told Reuters that, "We told them that we were not happy with them using an image of the king in their campaign," and explained the king's image is not supposed to be deployed for commercial purposes.
"We are deliberating on how to proceed," said a spokesperson for Burger Brands Belgium. "Should we make a change to our campaign we would communicate that."
G/O Media may get a commission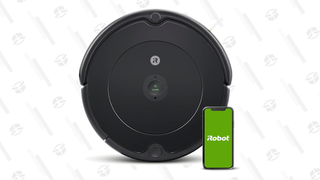 35% Off Black Friday Deal
iRobot Roomba 694 Robot Vacuum
Perhaps the most comical possible coda to the long-dead notion of the divine right of kings.