This morning we celebrated the end of one form of discrimination with the repeal of "Don't Ask, Don't Tell," but sadly we're ending the day with a reminder that kids are still suffering terrible harassment for being gay. This weekend, just a few months after he filmed a video for the "It Gets Better" project, 14-year-old Jamey Rodemeyer of Buffalo, NY was found dead from an apparent suicide. Earlier this month he blogged, "I always say how bullied I am, but no one listens. What do I have to do so people will listen to me?"
The Buffalo News reports that there were many people trying to help Jamey, but apparently it still wasn't enough. His mother says he'd been questioning his sexuality for some time, and his classmates had been harassing him for years. Tracy Rodemeyer says her son, "Has had issues since fifth grade. He had suicidal tendencies back then." Things got particularly bad a year ago when he created a Formspring account and started receiving hateful messages:
"JAMIE IS STUPID, GAY, FAT ANND UGLY. HE MUST DIE!" read one post.

Another read: "I wouldn't care if you died. No one would. So just do it :) It would make everyone WAY more happier!"
The messages were reported to guidance counselors at his middle school, and Jamey was seeing a social worker and therapist.
Tracy says, "We sat him down multiple times and said, 'What's going on?'" but Jamey would always say he was fine. His parents believed he'd been dealing with the bullying better since starting high school, and he seemed upbeat when the family went camping over the weekend. Then early on Sunday morning, he made two final posts to his Tumblr, one about wanting to see his late great-grandmother, and another that thanked Lady Gaga. Later that day he was found dead outside his family's home.
G/O Media may get a commission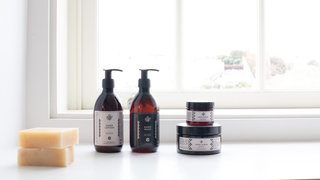 Exfoliate and Hydrate
The Handmade Soap Company
Jamey is the second Williamsville North High School student to commit suicide this year, but school officials say they did all they could. Dale Bauer, a licensed school social worker and clinical social worker at Williamsville, says the school offers some counseling, but isn't a mental health clinic. "The school can offer these services, but we can't force students to partake of them, and we're only one piece of the puzzle," she says. "It's really a question of us all working together."
It isn't clear what, if anything, was being done to stop the students who were tormenting Jamey. In a post responding to news of the Jamey's death, Dan Savage says that those who bullied him, "need to be held to account-not bullied themselves, not prosecuted or persecuted, but held to account-for their actions, for their hate, for the harm they've caused." He adds:
The point of the "It Gets Better" project is to give kids like Jamey Rodemeyer hope for their futures. But sometimes hope isn't enough. Sometimes the damage done by hate and by haters is simply too great. Sometimes the future seems too remote. And those are the times our hearts break.
Teenager Struggled With Bullying Before Taking His Life [Buffalo News]
Bullied Teenager In Buffalo, NY, Takes His Own Life [The Stranger]