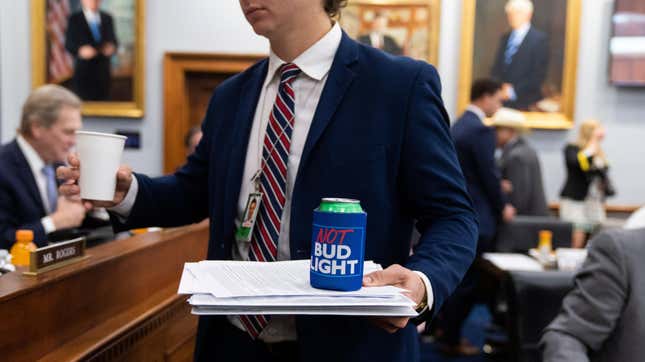 Well, someone can finally tell Kid Rock to stop blasting bullets into cases of Bud Light in his backyard. Per a new Variety report, Anheuser-Busch has a new strategy to win back transphobes by praying, playing, and yes, paying the gay away.
Following Bud Light's partnership with trans influencer, Dylan Mulvaney—a move that provoked conservatives, prompted a boycott, inspired Sen. Ted Cruz (R-Tx.) to call for an investigation, and incited this imbecilic attempt at a hate campaign from Arkansas Gov. Sarah Huckabee Sanders (R)—the company is now pandering to its most transphobic critics via a new slate of ad campaigns starring NFL players and country singers on primetime TV, cable, and sports programming.
Todd Allen, vice president of Bud Light, told Variety that the brand's stable of semi-famous people prepared to promote the beer includes Seaforth, a dude duo from Nashville with a single called "Good Beer," and someone called Tyler Braden, who Google says is also a country musician (he has a beard and is wearing a trucker hat in every photo, so I assume he's the kind of artist that country radio actually plays). Apparently, these people will headline Bud Light Backyard Tour, which will see musicians playing "intimate locations." NFL athletes, Travis Kelce (of course), George Kittle, and Dak Prescott are also due to appear in forthcoming ads. Two of them look like they could've been present at the Jan. 6 insurrection, so this all tracks.
Perhaps more surprising, though, is that Anheuser-Busch will offer the following to consumers: the chance to win $10,000 each week, $100 toward a bar tab, and rebates over July 4th weekend. Basically, they're throwing money at people to buy their watered down beer.
The first phase of the marketing rollout, Allen said, is this video which, in essence, is a series of dudes doing dumb shit in cargo shorts—flipping off of a hammock, shooting a basketball, and walking straight through a screen door—set to Chic's "Good Times."
"What I have learned in the past six or seven weeks is that we have deeply passionate fans that love and care about this brand. and for the last 40 years, we have been the beer of easy enjoyment," Allen said. "That's what people expect from us and that's what we are going to give them.
"We want to show up in all relevant occasions in summer—backyard barbecues, stadiums and sports venues," he said. "That's what counts and that's what we are focused on."

You heard the man. Pride's over.