Bryshere Gray seems to have moments when the spirit of Hakeem Lyon inhabits his body. In January, the 21-year-old actor who plays Empire's most incendiary son did an interview with Swag Magazine (Swag. Magazine.) to promote the series. When asked about what motivates him as a musician, Gray replied, "I can't even sleep, I got so much money on my mind."
Ana Gasteyer Satirizes the Girl Boss in 'American Auto'
According to Gray, not that many similarities exist between him and his rapper persona on the show, besides the fact that Gray rhymes with a similar cockiness—his real-life alias is Yazz the Greatest and he's opened shows for 2 Chainz and Fabolous. He's far from a privileged kid. Philadelphia born, Gray played football in high school, broke his arm, and then picked up music producing while recovering. An audition via his manager Charlie Mack (a friend of Will Smith's) led to a role on the addictive and scandalous family drama, Empire.
One question driving the show's plot is whether Hakeem has the wits to assume the reigns of Lucious' record label and truly pull off a coup over his brothers Jamal and Andre. Talent aside, Hakeem seems like the least capable candidate for the job. So far, in the midst of acting an utter fool, he's peed in a restaurant, berated President Obama in a viral video, rebelled against his mom Cookie, had a love affair with an older woman (played to perfection by Naomi Campbell) and blessed us with a wonderful ear-worm by the name of "Drip Drop."
G/O Media may get a commission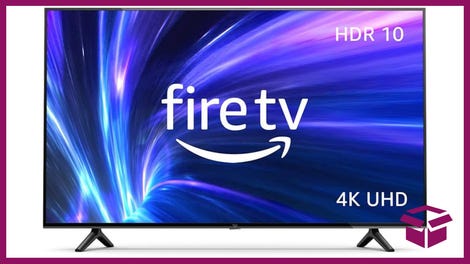 42% Off
Amazon Fire TV 50" 4K Smart TV
With four episodes left in season one, Gray spoke to Jezebel about Hakeem's future, his character's similarities to Chris Brown, possible guest appearances and the legacy of "Drip Drop," which includes—of course—the manufacturing of "Drip Drop" t-shirts.
Empire's ratings have been growing every week and it's been described as a black version of Glee. What's your theory on what has people so hooked?
Lee Daniels created a storyline that resonates with peoples' lives and it's inspiring, so of course it's trending so fast. It's characters that have a true purpose.
It's the only show that has so much hip-hop on it, which puts it in its own lane. In particular, "Drip Drop" is my favorite song right now.
[Gray sings: "Drip, drop, drip drippity drop"; my life is made]
What was the recording process like for that song?
It was fun. It was like the second song I did after meeting Tiana [Hakeem's girlfriend on the show, played by Serayah McNeill]. It was a great collaborative song and I'm happy to be involved. It was trending Number One on Billboard. Timbaland's doing the producing and he collaborates on the writing with Jim Beanz. It's a cool team.
Do you write any of the lyrics for the songs you perform as Hakeem or do you stay out of that?
I definitely had insight. I'm the type of guy that whatever I craft, I'm fully invested in it. So of course I'm giving, helping, trying to add some Yazz to the character as well. So I'm doing two jobs.
As a musician yourself, it seems like you would learn a lot about the music industry with this job. What have you picked up so far while shooting?
I learned there's a lot of things being whispered about that's swept under the rug and not being approached. Empire's approaching it.
Terrence Howard and Taraji P. Henson were part of your audition. Can you take me back to that moment and what it felt like? Butterflies?
I was blown away. I was blown away. Being able to work with Taraji—I idolized those two. They're phenomenal actors. I'm soaking up so much advice. I need to be the best and I'm learning from the best.
There are moments on the show where the characters seem to represent real artists. I'm sure you've gotten questions about how similar Hakeem is to Chris Brown.
Well, as far as the similarity, [the show's writer] Danny Strong influences the character. Kanye, Justin Bieber's antics—not Justin Bieber himself but his antics, snapping out to the world, doing rants—Hakeem embodies hip-hop and situations that occur in the hip-hop industry. He's that. You all get to see Chris Brown and you get to see the rappers and Jay Z, but you don't really get to see their lives. And that's what they're doing with Hakeem. They're going behind a wall that artists have up.
One of my writer colleagues at Vulture compared "Can't Truss Em" to Chris Brown's "Loyal." They sound similar, subject wise.
If "Can't Truss Em" is anything, I would think it's like a diss record. It's a diss record to Tiana and to Cookie. It's not really talking about women not being loyal. It's really about ranting on the situations that happen with Hakeem and his mother and Tiana.
Diddy's son Quincy was supposed to play your character on the show.
Yeah, it was a role that was talked about a lot that a lot of people were supposed to have and God blessed me with the role.
Let's talk about the Naomi Campbell storyline. How was the experience for you filming with an older woman?
Well, with Naomi, she's an iconic supermodel. She's beautiful, she's experienced, and she's a legend at what she does. It was great working with her. Our first time meeting was the pool table scene and she was kinda nervous. I was kinda nervous and we got through it and we kinda built a friendship off of that situation. It's been great ever since. It was scheduled for us to FaceTime and get to know each other a little bit beforehand, but we were working, both traveling, so that never occurred. We were kissing [in the scene], so it was kinda awkward, but it's acting. It's acting. With Lee Daniels, you gotta be prepared. [Laughs]
Do you think about how Empire is adding diversity to TV? It's one of the few shows with black actors in primetime.
Yeah, it's great to have our stars on TV, and it's great to be making opportunities for African-Americans to live their dream.
You have a clothing line, right? What are your goals with it?
Yes, it's YTG. You're the Greatest. Naomi inspired me a little bit on the fashion. The clothing line is inspirational. We start out with hats and for the women it's the onesies and t-shirts, the "Drip Drop" t-shirts and stuff like that.
You're making "Drip Drop" T-shirts? I need one of those.
I got you.
There've been a lot of guest stars so far, from Naomi to Courtney Love. Who would you like to see?
I would like to see Taylor Swift or Queen Latifah. Ariana Grande and Rihanna.
Rihanna should play your love interest.
I don't know. I think that's what people would think she should be on the show, so she should be something else.
Right, that would be obvious.
But it would be sexy.
Image via Facebook