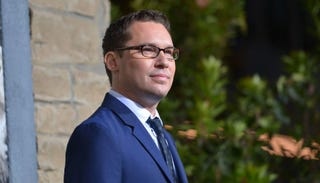 Bryan Singer is set to become a father for the first time. His BFF, actress Michelle Clunie, is pregnant with his child and they plan to raise the baby together.
According to Radar, Clunie is about seven months pregnant. The X-Men director's rep confirmed the news to E Online on Wednesday:
"I can confirm that Michelle Clunie and Bryan Singer are happily expecting a baby together in early 2015," Singer's rep Simon Halls tells me exclusively. "Best friends for 25 years, mother and father are both very excited about the upcoming birth and look forward to co-parenting the child together. The pair have been planning this baby for years and have been trying for the last two."
TMZ writes that contrary to some reports, Clunie, who starred on Queer as Folk, is not a surrogate and that while she and singer are not romantically linked, the pair are very good friends:
Contrary to reports, we're told Michelle will not get paid for carrying the baby, but Bryan will cover living expenses ... which is roughly equivalent to informal child support. He's already purchased a place for her to live just doors down from his West Hollywood home.
Singer was sued in April of this year for allegedly sexually assaulting Michael Egan when Egan was a minor. The lawsuit was later dropped after Egan dismissed his lawyer and told a judge he could not find suitable representation. Singer was also sued by another man, who made a similar claim that Singer assaulted him when he was a minor.
---
Beyoncé told Jay Z to lose weight because she is worried about his health. See, that's Bey for you. Always thinking about your cholesterol. [OK!]
This guy thinks Ryan Phillippe only made five good movies! What! He must think he's an expert or something just because he looks exactly like Phillippe and has his same exact name and stuff. Well as long as all five of them are Cruel Intentions, I guess I won't get too huffy about that. [DListed]
VERY IMPORTANT FUNNY PEOPLE BABEH NEWS! Cobie Smulders and Taran Killam are expecting their second child. [NYDN]
Noted male stripping expert and current see-er of Joe Manganiello naked Sofia Vergara confirms: Magic Mike might just be "too much" for some women. But too much what, Sofia? [Cosmopolitan]
Britney Jean Spears will make $1 million a week to play in Las Vegas. [Page Six]
So now of course, Jennifer Lopez is all "$1 MILLION DOLLARS A WEEK? SOMEONE CHARGE MY DIAMOND ENCRUSTED TRANSPORTER; I NEED TO GO TALK TO SOME PEOPLE IN VEGAS." [Inquisitr]
"Becky, did you see Jessica Chastain's mother bought her a food truck?" asked my mother during our last phone call. "Isn't that nice? She really loves her mother, you can tell. Remember how on my last birthday you said you 'forgot' about sending a present and then at Christmas you sent that candle that I think you must have used one or twice before? I loved that, too. I bet she calls her many times during the week, even though she is a very famous movie lady. I know you only call me once on Sunday because you are so busy with your blog things on the computer. I read all those stories you write. That sure must take up a lot of time to write about funny cats in videos. That's OK. Your mother doesn't mind at all." [Seattle Post-Intelligencer]
Reba McEntire is still the queen. [Billboard]
In a segment for Oprah: Where Are They Now? Carmen Electra opened about about her marriage to Dennis Rodman. "When it was bad, it was the worst," she told Oprah. [ABC News]
Here is Reba in all of her 1980s glory, singing on Johnny Carson's show.
Image via Getty.