It's clearly time to consider gang rape a world epidemic, but one might wish it didn't have to come at such a high cost: In a tragic echo of the deceased 23-year-old New Delhi public bus gang rape victim, 17-year-old Western Cape girl Anene Booysen was found raped and badly mutilated at a construction site in Bredasdorp last Saturday. Reuters reports that Booysen had been cut open from her stomach to her genitals—one of her attackers had reached inside her stomach and actually extracted her intestines, replacing them with shards of a broken glass bottle.
Ana Gasteyer Satirizes the Girl Boss in 'American Auto'
She died of her injuries by 10 PM, just after identifying her attackers. Her foster mother Corlia Olivier's wrenching description of her Anene's final moments: "My child almost looked purple. She was in such a bad state. All her fingers were broken, her legs were broken. Her stomach had been cut up, you could see her intestines. Her throat was also slit open." Three men, aged 21, 22 and 23 (one of whom was allegedly an ex-boyfriend and childhood friend of Booysen's) have been connected with the crime, to be charged in magistrate court on Tuesday.
South Africa has widely been described of one of the world's "rape capitals," with 60,000 reported per year but an estimated 10 times as many going unreported. Yesterday South African President Jacob Zuma called Booysen's death "shocking", "cruel" and "inhumane." "Impose the harshest sentences on such crimes, as part of a concerted campaign to end this scourge in our society. [...] It has no place in our country. We must never allow ourselves to get used to these acts of base criminality to our women and children."
Zuma's is just one of the spiral of outraged reactions from civil unions, government officials and women's rights groups. The Young Communist League of South Africa has called for the specialty training of all police officers on sexual assault cases, and the ANCWL (African National Congress Women's League) is calling for a national enquiry into rape and gender-based violence in order to gather enough statistics to begin developing a solution.
G/O Media may get a commission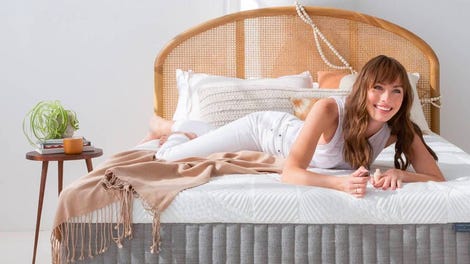 Sleep Sale
Sleep Sale - Brentwood Home
However, this political cartoon on Booysen's Facebook remembrance page exhibits skepticism that this is more than just lip service to placate the population and prevent a New Delhi-style protest response.
'Zuma condemns Bredasdorp rape as shocking, cruel and inhumane' [Mail & Guardian]
'Third man arrested for Anene Booysen's rape and murder' [Sowetan Live]
'The agony of South Africa's daughter Anene Booysen. The agony of South Africa.' [Daily Maverick]