A photojournalist in her early 20s was gang raped by five men in Mumbai on Thursday evening, according to police. The horrific attack is being compared to the December gang rape of a university student in New Delhi that caused international outrage and led to a revision of the nation's rape laws.

The attack took place in an abandoned textile mill in Lower Parel; according to initial reports, the woman and a male colleague were on assignment to take photographs of the neighborhood. A group of five men confronted them and offered to help her get permission to shoot inside of the isolated building. According to the New York Times, they then accused her male colleague of involvement with a local crime and tried his hands with a belt and beat him. The female photojournalist was taken to a separate part of the compound, and the men took turns raping her.
Police have already arrested a suspect in the attack who named and identified the remaining four attackers. In addition, sketches of the suspects have been released, and Mumbai police officers have detained and questioned as many as twenty men so far. According to Mumbai Police Commissionser Satyapal Singh:
Mumbai police will do its best to collect all the evidence — clinching evidence, scientific evidence — so that a fool-proof case is made out in the court, and they get maximum punishment. We will also request the government that this case be conducted in a fast-track court.
The victim was admitted to a hospital in south Mumbai where she is thankfully in stable condition.
This ghastly and brutal attack has already raised huge amounts of outrage and called into question the efficacy of India's newly-stringent sex crime laws. The Times of India reports that opposition parties are already calling for the resignation of RR Patil, the home minister of Maharashta state of which Mumbai in the capital. In addition, nearly 1,000 people — including several journalists — staged a silent protest in south Mumbai, carrying placards that read "Stop rape" and "City of shame."
G/O Media may get a commission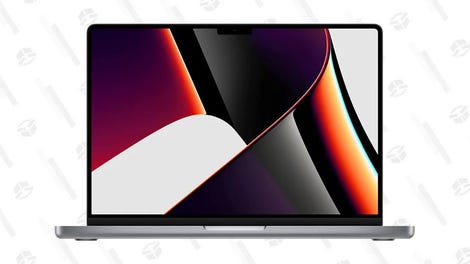 Save $300
2021 14" 1TB MacBook Pro
Mumbai has long been considered one of the safest Indian cities for women traveling alone, heightening the sense that the rampant sexual violence in India has become an epidemic. Binalakshmi Nepram, a women's rights and anti-violence campaigner, tells the Independent that a woman in India is raped every 20 minutes and that the incidence of gang-rape is increasing.
As women's rights activist Nilanjana Roy said to the Guardian, "Thinking of that photographer, on her first job, with rape thrown in as a consequence of going out to work ... this cannot be our 'normal.'" And yet it is: the fear of sexual violence and gang rape cause women to feel unsafe and limit their mobility on a daily basis. What will it take to make women's safety a priority?
"Gang Rape of Young Photojournalist Shocks Mumbai" [NYTimes]
"Gang rape of photo journalist shocks Indian financial city of Mumbai" [Reuters]
"Mumbai gang-rape: Police question five men after brutal attack on female photojournalist" [The Independent]
"Mumbai Gang-Rape: Five Held Over Attack on Female Photojournalist" [the Guardian]
"Mumbai Photojournalist's Gang Rape Case" [Times of India]
Image via AP.